Tough Loss for Hiller Boys at the TD Garden: 56-67

Photos by Ryan McLean
Article by Kayla Sullivan
The Hiller boys played against New Mission at the TD Garden on Tuesday, March 15th in Division 2 State semi-finals. Â The Hillers fell behind in the fourth quarter, and the final score was 56-67. Â Varsity Coach Tom Keane said, "The game was challenging, as New Mission was fantastic and favored to win the DII State title. Â Our team played really well and represented the town of Hopkinton well".
New Mission stayed a few steps ahead of Hopkinton for the first quarter, ending with a scored of 18-22.  The Hillers trailed close behind New Mission in the second quarter, and tied it up 30-30 with three minutes to go.  Junior Jason Dlugolecki scored, but New Mission sunk a three pointer, putting them one point ahead.  Senior Jeff Dufficy scored on a foul shot before the end of the half, tying it up once again at 33-33.
Both teams fouled each other throughout the game.  Junior Barrett Hanlon scored the first basket after the half, but New Mission tied it up and then scored again, putting them two points ahead.  A three pointer by senior captain Wesley Ericksen plus a foul shot tied it up at 38-38 with five minutes left in the quarter.  Both teams scored a point on foul shots, but New Mission continued to score five more points and Hopkinton called a timeout.  Senior Jake Doucette stepped it up and scored 6 points following the timeout, leaving the score at 46-49 at the end of the quarter.
At the beginning of the fourth quarter, New Mission scored three points on foul shots.  The score was 46-52 with six minutes left, but Barrett Hanlon scored two points on a foul and the score was 48-52 with five minutes to go.  Barrett scored another basket, but New Mission pulled farther ahead and left the score at 50-59.  Jake Doucette scored a basket and sunk a foul shot, but New Mission kept their lead throughout the quarter.  "New Mission played excellent defense in the fourth quarter and were more athletic than us," stated Coach Keane.  "We stuck with them for three to three and a half quarters," said Wesley Ericksen, "They were a really talented team and very athletic".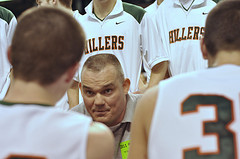 At 53-67, Coach Keane subbed new players in.  Junior Ryan Hamilton scored as soon as he got in, and sophomore Rollie Muench sunk a foul shot with only four seconds on the clock.  The final score of the game was 56-67.  "It was awesome [playing at the Garden], I mean, it's an unforgettable experience.  It was pretty surreal at first, but once I got in the game, which was only for a few seconds, I just tried to make the most of it," said Hamilton.  "We had a great season and the best part was our team chemistry," stated Coach Keane, "The kids played really well together".