Quarter Final Win for Hillers Boys Basketball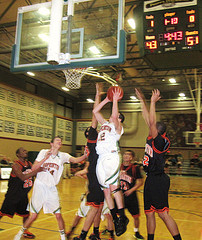 By Catherine Leonard
The Hopkinton Hillers Boys Varsity Basketball team came out on top with a score of 78-72 in the quarter finals of the State Tournament against Stoughton on Thursday, March 3.
Senior captain Will Relle stated, "The team felt a little bit nervous coming in because we had heard a lot about them [Stoughton], and they were in a really good league, but once we settled into the game we were able to succeed."
The Hillers took the lead early in the first quarter with three three-pointers, two scored by senior captain Wesley Erikson.  The Stoughton Black Knights stayed close behind and left the score at 18-13 in Hopkinton's favor at the end of the quarter.
The teams battled for the lead in the second quarter.  Hopkinton Coach Thomas Keane stated, "Even though Stoughton's record was 13-8, they come from the Hockomock league, which is a very tough league, so we knew that even though it was a 1 seed versus a 9 seed that the teams were very evenly matched".
Hopkinton played clean defense and blocked several of Stoughton's shots without fouling in the second quarter.  The Hillers were in the lead moments before the end of the half with the score at 34-33, but Stoughton's captain Marcus Middlebury sunk a controversial three-pointer at the buzzer and put his team ahead.
Stoughton returned from halftime to score four three-pointers in the first three minutes of the third quarter.  When asked how the Hillers fought back to get ahead, Relle said, "We figured out that we had a huge height advantage, so we went inside with Jake Doucette a lot, which was helpful throughout the game".   Stoughton fouled Doucette several times after the half, and the score was close at 55-58 at the end of the third quarter.
The Hillers took sixteen foul shots in the fourth quarter alone and made all but five, allowing them to secure the win.  Relle said, "We really stepped it up this game, which we needed to do".  Senior Jake Doucette, Hopkinton's top scorer with 24 points, said, "I feel great!  It was an awesome win".  Coach Keane agreed, stating, "It was a big win for everyone".
Next, Hopkinton's Boys Varsity Basketball team will move on to the semi-finals of the State Tournament.