Unexpected Second Place At Relay Meet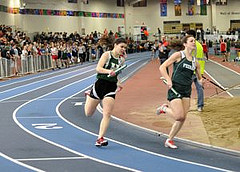 By Kellie Lodge
The competitiveness of the Hopkinton girls track team resulted in a second place finish to Bishop-Feehan at the relay meet held at the Reggie Lewis Center in Boston, MA on Saturday, January 15th. Â "I thought we could be in the hunt along with Bishop-Feehan and Pembroke who finished first and second last year," stated Hopkinton track coach Brian Hall.
Going into the 4×400 meter relay, Hopkinton was holding the lead by four points and knew that they would have to finish in at least fourth place to win the meet.  The computer controlling the score board was scoring the meet as if it was an eight place event instead of  a six place event.  At the end of the meet, the officials announcing the score announced Pembroke as third place and Bishop-Feehan as second, and were going to announce Hopkinton as first place but paused once they realized they had made an error.  Fixing the error reduced Hopkinton's score more than Bishop-Feehan's, as they had a number of seventh and eighth place finishers.
After finding out about the true meet results Coach Hall said, "The truth is there isn't anything we would've done differently or better if we knew the true score. Â I was really proud of our team for the way they handled that news that we were bumped to second place team."
Struggling with back pain that prevented her from competing in a large portion of spring track last year, junior Jenn Lynds medaled in all three events she participated in. Â She was a member of the high jump relay who finished third, the distance medley relay who finished second, and the 4×400 meter relay who finished fourth. Â Jenn stated, "Placing in all three events made me feel proud that all my hard work over the season paid off. Â However, I could not have done this without great teammates that all added something to those relays."
Hopkinton tallied a total of 48.5 points.  Emily Jarvis, Mirelle Raza, Kaylin Albanese, and Kaelynn Maloney placed first in the 4×50 yard shuttle hurdle relay (31.91), Jenny Curley, Stephanie Hadley, Tamara Mills, and Jordyn Labriola placed first in the 1600 meter sprint medley (4:21.32), Kim Bolick, Haley Anderson, Leah Holmes, and Jordan Doherty placed sixth in the 4×800 meter relay (10:04), Melissa Lodge, Jenn Lynds, Tam Mills, and Kellie Lodge placed second in the distance medley (12:45.79), and Kim Bolick, Jenn Lynds, Haley Anderson, and Emily Jarvis placed fourth in the 4×400 meter relay (4:16.78).  As for field events, Jenn Lynds, Hannah Krueger, and Marissa Mahoney placed third in the high jump, Jaclyn Chirco, Katrina Parsons, and Traci Arnold placed sixth in the shot put, and Hannah Krueger, Elizabeth Brown, and Meghan Beidleman placed sixth in the long jump.
Having about eight or nine 400/800 meter runners allowed Coach Hall to field relays that had a shot at scoring in every single event. Â "Most importantl,y when our anchor leg of the 4×400 meter relay became ill I still had three or four fast possibilities," said Coach Hall.
When sophmore Jordyn Labriola wasn't feeling well, Coach Hall informed Jenn Lynds that she would be taking her place in the 4×400 meter relay.  Jenn said, "I accepted it better than I would have since my spirits were so high after competing in high jump and a recent 400 meter run in the distance medley relay".
Although the team was competing for a first place finish they were content with second because they knew everyone contributed their best in each event they participated in.  The team's next meet is against Westwood on Saturday, January 22nd, and after that they will be preparing for the meet for the Tri-Valley League title.