Boys Indoor Track: Confident and Eager to Win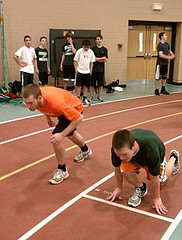 By Mike Ronan
With winter sports starting on November, 29th, the Hopkinton boys track team is looking forward to a promising year both in the Tri Valley League and the state meet. The boys track team will be at one of its strongest points this winter as the team competes for the Division III State Championship on February 19th, 2011. The preparation for the state meet is a long road with many opportunities for athletes to qualify for the championship.
This winter, the boys indoor track team has a lot of confidence; they have not lost a TVL meet in three years. On top of that, they have won the TVL championship meet three years in a row. Hopkinton is looking to keep the tradition alive and battle for another undefeated season and continue to win the TVL Championship title.
The 2010-2011 indoor track team looks promising.  This year's underclassmen will need to fill the shoes of last year's seniors Cam Fairbanks and Dan Carrai, two distance runners for Hopkinton. Fairbanks and Carrai were key athletes to the team, providing Hopkinton points in the mile, two mile, and 1000m. Fairbanks (now running at Westfield State) left behind sophomore Timmy Bolick to take his spot in the mile. As a freshman, Bolick was right on Fairbank's tail.  In last year's TVL league meet, Bolick placed just five seconds (4:45) behind Fairbanks (4:40) in the mile. Hopkinton will also see the return of Joey McNulty (55 yard dash), Josh Hacunda (300m), Jeff Corkum (High Jump), now juniors, and Kevin Franke (1000m) and Zach Hutchinson (600m), now seniors.
Hopkinton consistently produces some of the fastest runners in the TVL. Â With the team's talent, Hopkinton looks to continue breaking school records. Last year, two records were broken. Mike Ronan broke the 600m record (1:24.79), as well as the 4x800m record with Zach Hutchinson, Kevin Franke, and Cam Fairbanks. The boys are all coming back this year looking eager to reset the record books again. The team looks to break the 4x400m, 1000m, 600m, and 4x200m records this season.
Hopkinton Track is coming into its indoor season confident and eager to win. The team has a great amount of talent and confidence, and has the potential to win it all this season. The Hillers' first meet is against Ashland and Medway on December 11, 2010.