Hiller Field Hockey Bows Out On a Successful Season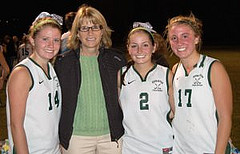 By Kellie Lodge
The Hiller field hockey team lost to Walpole in their second tournament, a bittersweet game on Sunday November 7th, Â leading the Hillers to the end of their 2010 fall season. Â The team was captained by seniors Katie Pelgrin, Liz Keefe, and Nicole Wigglesworth, who were members of Hopkinton's state championship team in 2008. Â The 2008 Hillers field hockey team was considered to be the underdog dog team, however, this year they had the experience to go deeper into the tournament.
Moving from division two to division one after winning the state championship, the team moved into a tougher division for their tournament games and became the only team in the Tri-Valley League to play in division one.
With the pressure of losing nine seniors last year, five being important key starters, the captains did not know where theteam would stand in the league this year. Â Fortunately, the team did not need a rebuilding season, and they came back strong to challenge other competitive teams. Â They ended the season with an impressive record of 14-4-2.
In the Hillers' first tournament game against Hingham, Liz Keefe scored in overtime and the Hillers won 1-0, a highlight of theseason.  "We knew we had to put pressure on Hingham to keep the play in the offensive end to get the win," said Wigglesworth.
"We put up a fight against Walpole this year," stated captain Katie Pelgrin.  The Hillers were down 1-0 until  Skye Wilde, a senior,  scored on a stroke to tie up the game.  It only took a minute after the Hillers tied the game for Walpole to regain their lead.  Walpole held off the Hillers to win the game 2-1.  Wigglesworth said, "It was sad to see our season end, but we played a really strong game and I was extremely proud of how everyone played.  We had nothing to hang our heads about, we went out there and played our hearts out the whole time."  Walpole was a tough match up for the Hillers to face because they are a perennial power in the Bay State League.  The Hillers lost to Walpole in last year's tournament as well.
Reflecting on being captain with two of her best friends, Liz Keefe said, "Being captain with Katie and Cole was awesome. Â All three of us are different in our own ways so it made being captain easy. Â We get along great and had an awesome season." Â All three senior captains are thinking about playing on a club field hockey team in college because the sport was such a big part of their high school experience and it is something they are truly passionate about.