Outstanding Girls Cross Country Freshmen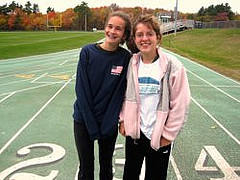 By Kellie Lodge
The 2010 girls cross country team started off on a positive foot with its two new members, freshmen Emily Katz and Mary Kate Cavanaugh, making a major impact. Â Just a few weeks into the season these two freshman proved they are willing to work hard to get in the top seven positions of the varsity cross country team. Â There have not been two freshmen on the varsity team since 2007.
"Most freshmen come into the season without real past training, without much summer training, thus once we get six to seven weeks with them there can be dramatic improvement," stated girls cross country Coach Brian Hall.
Both Emily Katz and Mary Kate Cavanaugh have made huge improvements in each race. Â They work hard to prepare for each meet, and their improving times show that they are not going to give up.
In their first meet of the season, the Hillers defeated Norton with a score of 46-17.  After racing her first high school race, Mary Kate Cavanaugh said, "I was excited to start high school cross country, but a bit nervous about how things would turn out."  Emily Katz, the other freshman on the team, said that she felt "really, really nervous because I was worried that I wouldn't do good or wouldn't be able to finish for some reason.  I was a little excited to see what it was like to run in a high school meet."
This past summer, the team held captains practices once to twice a week for all of July and August.  "I'm extremely happy with the upperclassmen for preparing this group," said Coach Brian Hall.  The girls cross country team was ranked 19th, but after the Ocean State Invitational on September 25, 2010, they placed 2nd overall as a team.  The team then team moved up to 6th in the state just one week later.
The Hopkinton Varsity Cross Country team is made up of the top seven athletes in the program, and each of the seven runners has the potential to step up at any time. Â Emily Katz ran 10th for the team one week but finished 6th the following week, improving tremendously. Â "I've just been trying my hardest in practice, and making sure to stretch before and after running, and to ice anything that might hurt or feel sore" said Emily Katz. Â After leaving their safe groups, these two freshman are challenging the upperclassmen for varsity positions. Â This competition within the 2010 girls cross country team is creating greater fear in their opponents.
The freshmen's records improving by over a minute in just one week is a great example of "the potential this team has if we can stay healthy" stated Coach Brian Hall.  With only one more dual meet and the Tri-Valley League meet and states only three weeks away, Mary Kate Cavanaugh stated she is "working on increasing my speed/pace by trying to keep up with the faster girls on the team."  Only the top seven runners continue on to race at the State meet on November 13th at Franklin Park.  There are about five runners currently competing for the last two varsity spots for the state meet.
"Hopefully we'll live up to our 6th ranked state status, but if not I know this team has applied itself and done what it could.  A coach can't ask for more than that," said Coach Brian Hall.