The Legacy of Hiller Mascots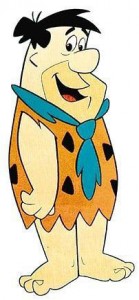 By Rachel Ansell
The soft morning sun broke over the middle school, fresh and full in the rise of the new day, expressing promise for Hank the Hill. Hank, the most recent addition to the team, is the next Hillers' mascot.When the Hillers football team was first organized in 1932, they were called the "Stone Throwers", using the well-known icon, Fred Flintstone, as their mascot. Although the Hopkinton lacrosse team still uses the "Stone Throwers" title, with Fred as their logo, the team name and Fred,were banned from the football team.
"There wasn't any reason for the school to take away our mascot – they're just being controlling," Said one senior, soon to graduate.
The administration, however, had another view on the matter. "It wasn't so much the mascot as the team name," commented Principal Geary, "Kids would call us the 'Stoners', which was suggested drug use. As a school, the name was inappropriate, and had to be stopped." In order to stop the name-calling, the school's solution was to yank away the team name and mascot altogether.
After long, lonely years without a football mascot, the Hillers may have their solution. They may not be the "Stone Throwers" anymore, and they might not have a cave man as a mascot, but they have something that could potentially be even better, a hill named Hank. Hank is simply that, a giant hill sporting a large orange letter "H" for Hillers. He even has a theme song that you may recognize; the King of the Hill opening music.