Hillers Rally Past Panthers 21-12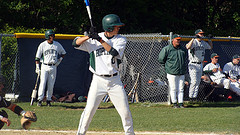 By Malcolm Cheney
This past Thursday, the Hiller baseball team took a short bus ride to Holliston to face the Panthers in a night game. Earlier in the season, the Hillers won on their home field 10-9. The Hillers defeated them again with a score of 21-12.
Peter Carbone, the starting pitcher for the Hillers, stated, "We knew going into it, that is was going to be an offensive battle, both teams have big hitters throughout their lineup". Carbone was correct, the Hillers had an early lead, which was quickly met by the Panthers efforts. By the fifth inning it was 12-10, in favor of the Hillers.
Next, senior Shortstop, Jonathon Ho, stepped up to the plate. Ho said,"I needed a hit, I felt like I let the team down early on in the game with the errors I made in the field."
Ho, stepped up to the plate, and knocked a shot to left field which landed in the parking lot. His three-run homer put the Hillers on top, and from there, there was no looking back. From that point on it was all green, as the Hillers ended the game at 21-12.
"It was a good game for us to win, we needed a big game to continue our winning ways," said Coach Stickney following the game.
The next game is Monday vs. the Blackhawks of Bellingham. The Hillers lost their  first game against the team, 19-16, it will be a well contested game.