Hiller Girls Continue to Dominate on The Courts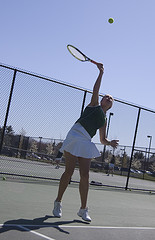 April 14, 2010
By Ryan McLean
HOPKINTON- The Hopkinton Girls Varsity Tennis team continued their dominance at home today over the Millis Mohawks. The Hillers beat out the Mohawks by a team score of 5-0. This improved the girls' season record to 5-0.
In girls tennis the matches are scored first to 6 and win by 2. It is then best 2 out of 3 matches. Each team plays their top three singles players, and their top doubles pairs. The overall winners of each game are awarded points supplying the 5 points for the overall win.
In first singles freshman Denny Lamachia was able to win both her matches by a score of 6-0. Second singles Laura West also beat her Millis opponent by a score of 6-0 in both matches. In third singles sophomore Maddie Schneider beat her Millis opponent 6-1 in both matches. First doubles sophomores Abby Normandeau and Bevy Reynolds were able to defeat their opponents. The only falter of the day by the Lady Hillers was in the second doubles. Senior Molly Karg and Junior Karen Poderefsky stumbled out of the gate, losing their first match 4-6 to Millis. However, the girls pulled together and came back strong in the second game winning 6-2, and finally winning 6-0 in the final game. This secured the shutout win for the Lady Hillers on their home court.
Going into the game the ladies had confidence and high hopes, knowing Millis was a weaker team. This did not stop them from performing well, nor was it a time for the Lady Hillers to play easy. During warm-ups Coach Nancy Clark could be heard shouting to the ladies to make sure they were keeping their hits low. Junior Allison Langh, commented that "Everyone was on top of their game and played very well."
The next game for the Lady Hillers is away in Medway on April 15th. Medway is said to be a tough match for the girls, then they are back at home after school vacation week, on Monday the 26th against Westwood.