Championship Win for UCONN Women, Once Again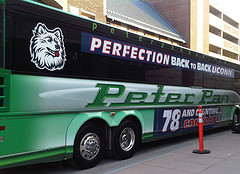 By Sebastian Gutierrez
On Tuesday, April 6th, The University of Connecticut's womens' basketball team, 2009 NCAA women's champions, made history by claiming their second championship in two years, seventh title in history, and their 76th game in a row, with a victory against Stanford. The Lady Huskies have gone undefeated for two full seasons in a row, a tremendous feat never before accomplished in women's college basketball.The halftime score proved the true competition of the game. It was 20-12 when the half time buzzer screeched, and the UCONN women walked off the courts with their heads hanging low. Commentators and fans harshly criticized the Lady Huskies play at half time.
Frank Moberg, a UCONN senior said, "the UCONN fans were stunned by the lady's performance. Overall, we didn't know if we really were going to take home the victory, a feeling that had been completely foreign before that point."
The Huskies came back from the locker room, rejuvenated and ready to stop the Stanford girls. Sarah Magnet, an intern trainer and junior at the University of Connecticut, stood in the locker room during the coach's halftime speech. She said that "the coaches focused on defense, defense, defense. The demeanor in the locker room changed from hopeless to hopeful in a matter of seconds. I guess that is why we're so good. Attitude."
The team stopped the Stanford ladies with an 11-0, following the start of the second half. Paul Staley, a writer for a UCONN journal, who was at the game said, "it seemed that the defense kick started the offense." The Husky ladies attacked the hoop behind the leadership of Kalana Greene, a guard and an unstoppable asset.
The Huskies energy simmered off towards the end of the game, as the Stanford Cardinals began catching up, but the deficit between the scores was too large to regain. The UCONN ladies are looking forward to another successful season, with very skilled returning players.