Geary Named School Principal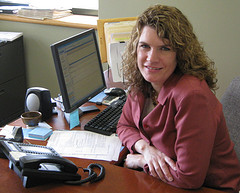 By Alex Soifer
Alyson Geary, after serving as interim-principal, has just been hired as the new principal following the leaving of John McCarthy, at the end of the 2008-2009 school year. A strong believer in student centered education, Ms. Geary, stated, "When you're thinking about making decisions, whether it's about curriculum, or whether it's about activities, I always try and think about what's going to be best for the student."
Another important aspect of Geary's philosophy is a shift towards more authentic assessments and learning.  Although she stated that she believes learning content is important, she believes that learning how to apply it is just as important.  "As the principal you are the teacher of teachers, teachers teach kids and principals teach teachers. We need to find more ways to have authentic assessments for kids," she stated.
Geary also has big plans for the future. "High schools are changing and the structure of high school is changing… We don't have one to one access [to computers] which is what I'd like to see in the future."
In the future, the new principal believes that the schedule of the day may include more technology components. There will be more online classes, and Hopkinton may veer from its traditional five period structure day.  She hopes to change the focus to more long-term projects and end-of-the-semester projects, both of which give students the opportunity to learn to apply the content knowledge learned in classrooms.
There will also be an increase in classes that focus on more than one area of study.  "I'd like to see more interdisciplinary learning." Ms. Geary would like to see more math and science learning.
With a long history in the field of education, Ms. Geary was a great candidate for the job.  After graduating from Brigham Young University with a master's degree in theatre and English education, Ms. Geary  worked in Las Vegas's Clark County School District teaching English and theatre, and at the Las Vegas Academy of Performing Arts, an art magnet school.
She moved to Boston to teach at Charlestown High School, and pursued a master's degree in education at The Harvard Graduate School of Education. Shortly after graduating, Ms. Geary started working at Hopkinton in 2004 as an assistant principal.
Even though she applied at several other schools, and was even a finalist at Natick High School for a principal position, she declared, "in the end I decided that Hopkinton was the best place for me to stay."