Junior Privileges Introduced at Hopkinton High School
Recently, the decision has been made by high school administrators to allow juniors to have privileges, a new policy to be started some time in March.
The school currently has senior privileges in place, which allow for students to leave during their scheduled studies in the rotation. Junior privileges would allow for students to come to school late if they have a first period study and leave early if they have a last period study.
"We are getting them ready for senior year," said principal Evan Bishop. "It's interesting to go from no ability to leave the building to some people having eight [study] periods out of a cycle…I thought it would be a nice way to transition."
Junior Anna Joyce agreed with Mr. Bishop. "I think junior privileges are a good idea," she said. "It gives the juniors a little more freedom."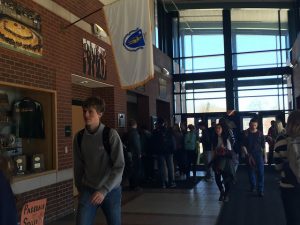 Mr. Bishop also mentioned the issue of space in the building. "We are almost at capacity," he said. "Having the juniors not here first and last period might open up the library and just open up more space."
The capacity of the high school, according to the original building plans, is 1,100 students, while current enrollments are at 1,150 students.
The number of students in the school causes spaces for studying like the library or guidance office to have higher numbers of students in them at all times. The increase in foot traffic in these spaces means that there is more socialization then there was previously.
"I don't think that [junior privileges] will keep the library a more learning targeted space," said Ms. Belcher, library assistant for the high school. "I think the students who use the library space try to focus on their work."
She additionally mentioned that students in the library first period and last period are working on homework, "to finish [homework] first period or to get a jumpstart on homework for the day," said Ms. Belcher.
The widespread support for the new program has been met with little opposition.
"The [only] difficulty with junior privileges might be the amount of kids signing in," Mr. Bishop stated. "There are not many things that would be a major problem."
Senior Owen McNamara agreed. "I think that juniors might be inclined to park in senior lot, but there is really no additional room so they won't be able to do so," he said. "Juniors should be able to handle themselves with maturity at this point in the school year. I think they can handle it."
"At first I thought people would park in senior lot if they had a second, third, or fourth period study, but since juniors only get first and last period study, it shouldn't be a problem," said Joyce.
The requirements to get junior privileges are similar as those for senior privileges; all grades for midterms for juniors must be above a C-, the junior must not have any Saturday schools, and the student must have acceptable attendance records.