The Chris Herren Story: Able To Reach Students On A Deeper Level
By Olivia Casella
HHS Press [3.23.16]
(Hopkinton)- As opioid use reaches an all time high across the country, students and residents have the opportunity to hear the courageous story of how Chris Herren overcame addiction.
Chris Herren was a high school basketball star at Durfee High School in Fall River, MA. He went on to play basketball for Boston College, until peer pressure to try cocaine stopped him in his tracks.
"They said it won't kill me. Little did I know that that one line of cocaine would take fourteen years to leave my system," said Herren.
After addiction ended his basketball career, Herren's fight was not over. He had to suffer with the aftermath of his addiction and try to salvage whatever was left of his existence, which was not much.
Fourteen years of struggling with his addiction and almost losing everything later, Herren wanted to give back and help to stop others from having to go through what he had to go through.
In 2011, Herren formed The Herren Project with the goal of educating young people on the effects of drugs on an individual and those around them.
Students at HHS have had numerous presentations about the effects of drugs and alcohol, but not until Herren came and spoke did students really take in all of the information that was being given.
"We present you the worst day and we forget the first day," said Herren during the presentation
He spoke about addiction from a different point of view. With this approach, he was able to engage students.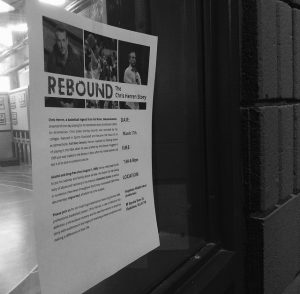 Bruce Elliot, Wellness Coordinator, said that he witnessed a reaction from the students that he had not seen before.
"For an hour and half it was very quiet and emotional. That has not happened in my time at Hopkinton," said Elliot.
Mercedes Lahaie, junior at HHS said that she too witnessed the emotion elicited by Herren's words.
"As I looked around the gym during the presentation, I saw people crying because they are now truly understanding what drugs can do to a person," said Lahaie. " Chris Herren was able to engage everyone and keep them engaged until the moment he put down the microphone."
There was no question that everyone was moved by Herren's words, evident by the ability to hear a needle drop. And when one brave freshman stood up to share how negatively drugs have influenced his homelife, all fifteen-hundred of us in the Athletic Center felt as if we were part of a stronger, closer community.
"The presentation definitely helped prove why I don't do drugs," said Lahaie. "If I am ever in a bad situation, I will remember Chris Herren because it is easier to say no and walk away then say yes and have to fight for your entire life to get back to who you truly are."
"Overall, the message resounded with our students. Many students commented that the presentation had an impact and a lot reached out to Chris afterward," said Elliot. "There is a good chance that we will bring back Chris for future presentations."