Hopkinton High School's Great Debates
Hopkinton High School's Great Debates
By Victor Estrella
Students who set out to test their skills in debating opted to join the HHS Debate Team, a school club where students are able to learn and compete against other debaters to see who can come on top as the best disputer.
Though coming to a close this March, the debating does not stop, as several debaters have been chosen to compete in the state tournament.
Despite not everyone being able to compete in the upcoming state tournament, many students expressed no opposition stating their time at the Debate team was well spent and enjoyable.
"I really enjoyed it," said newcomer Alex Wojick. "I always liked debating in class, and not only has it been enjoyable but it has also been a great learning experience."
Debate team Veteran Maz Ahmad was one of the few debaters that proved skilled enough to compete in the State Tournament.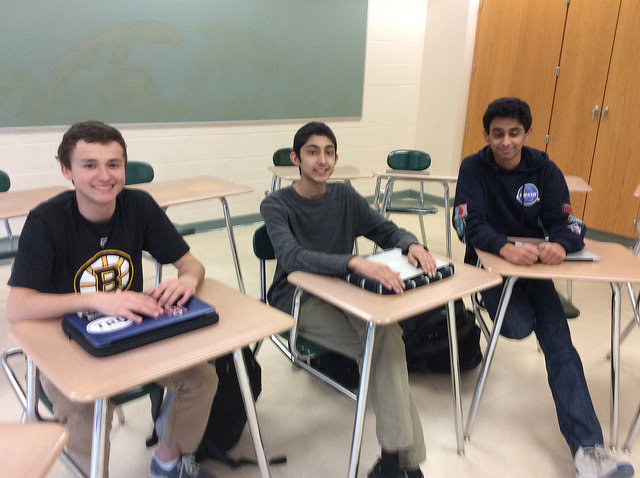 "I think it's going to be a very exciting and new experience," described Maz Ahmad. "It's going to be nerve racking but yet it presents a new learning opportunity."
Tazwar Ferdous, another Debate team veteran, was also submitted to enter in the state tournament.
"This is our first time being qualified for the state tournaments," said Ferdous. "We aren't used to going up against people who are conventionally certified for these kinds of tournaments. Hopefully it will provide a good experience."
Mr. Spiegel is the supervisor and advisor for the debate team and expresses his desire for more students to join the debate team.
"I think it's a great skill to work on, it teaches you how to be a writer, how to be a great conversationalist, and how to convince people of your point of view," argued Spiegel.
Certain students may find it a bit nerve racking signing on to compete in front of judges arguing over certain topics but Mr. Speigel advises students to just "go ahead and give it a try", and that he's never met a student that joined and expressed regret about their time at the debate team.
Debate team meets once more next year. The club meets in room 207.