The Daily Grind: Hopkinton High School's Coffee Shop
Once every seven school days, teachers get a real treat: fresh, hot coffee delivered to their door during lunch block.
Jessica Bacon created "The Daily Grind" coffee shop with her students back in November. Every D-day in the first semester rotation, and every C- day in the second semester, teachers can fill out an order form, pay $1, and have their beverage delivered to them.
Bacon had the idea because other surrounding schools have similar shops. What makes the coffee shop so exciting for HHS is that Ms. Bacon's class, located in A110, received donations from Google to help fund the shop. "I created an account on www.donorschoose.com and received all of the products for the coffee shop to get it up and running through direct donations from Google," said Bacon.  "The products, including the coffee maker, cost roughly $600."
The Daily Grind is not only a treat for the teachers, but for the students as well. Students participating in the program gain a lot of skills, like communication and group work. "The students get to practice following written directions, customer service, contributing to the school setting in a positive way, communication skills, and a team approach to the coffee-making and distributing," said Bacon. "So, they get practice working in a group setting."
The students gain business skills, but they also have fun participating in The Daily Grind. "Whenever I get a coffee, the students who deliver seem like they're having fun and they get a lot out of it," said Mark Sanborn, wellness teacher.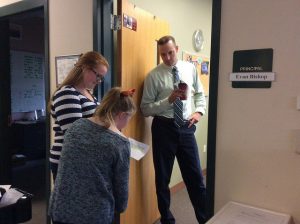 Since the grand opening in November, the coffee shop has had many satisfied customers. "[The coffee shop] is a great idea," said Mr. Bishop, principal of HHS, "and it's delicious!"
Over the past two months, The Daily Grind has gotten more and more customers. They now have an average of 40 coffee orders every D-day. "I've gotten a coffee almost every D-day and I love it," said Sanborn. "It's good coffee and it's nice having it delivered to me."
Given the success of the coffee shop, Ms. Bacon hopes to continue through the rest of the year and hopefully throughout the years. "We hope to expand and get more students involved," says Bacon. "We'd love to make fruit cups or pastries for teachers as well."