Hopkinton High School Makes Strides to Reduce Stress Levels
As Thanksgiving break approached, Hopkinton High School held a "De-Stress Week" filled with stress-relieving activities for students and faculty.
Because students face a lot of stress, the administration has created De-Stress Week, a time dedicated to helping students find healthy ways to cope with this stress.
Some of these activities include meditation before school, music between classes, activities during lunch, therapy dogs, and homework-free weekends.
"The purpose of De-Stress week is to bring attention to the stressors we all have in our busy lives and experiment with strategies we can use to manage our stress," said Hopkinton High School Principal Evan Bishop. "We understand that this will not eliminate everyones stress but we hope that during this time, students are able to find stress-management techniques that work for them."
Administration created this week with the students' best interests in mind, taking into consideration that students have many other commitments outside of school.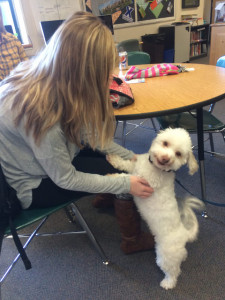 "We take the well-being of our students and staff very seriously and feel it's extremely important to create time for everyone here at HHS to find a healthy balance," said Bishop.
Administrators understand that this week isn't going to completely solve stress issues, but they are open to suggestions from students and staff to help solve the problem.
"After each De-stress week, we usually reflect upon, and make adjustments to better meet the needs of everyone in the building based on the feedback we get from students," said Bishop.
"We understand that this is not a perfect solution to our school's stress problem, but it's a start," said Hopkinton High School Assistant Principal Joshua Hanna. "The solution to a problem as big as this isn't going to happen immediately, but we think that this is a step in the right direction for our students."
While this week was created to assist students by reducing their stress levels, many students feel as if it is a false advertisement.
"De-stress week is a good idea, but I've had three quizzes this week and I am overwhelmed," said senior Brigid Marquedant. "It's nice that administration is trying to help, but many teachers still give out work on homework-free weekends."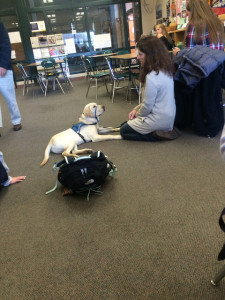 "The extra activities throughout the day are fun," said senior Chrissy Leonard. "But I wouldn't say that they help to reduce my stress."
Even teachers have mixed opinions about De-stress week and its effectiveness. Some teachers support the idea and abide by the rules while others ignore or make "exceptions" to them and still give out homework when they are told not to.
"As a teacher, I've heard more students complain about stress this week than any other week," says elective teacher Valerie von Rosenvinge, who leads meditation every morning before school on De-stress week. "I think that this week would more accurately be called 'Stress Management Week' because the regular stresses in students lives are still there, but we are teaching them how to deal with them."
While the idea of De-Stress Week is an innovative step in the right direction, students and staff agree that some changes need to be made to make this week more effective going forward.