HHS Takes A Turn On 42nd Street
Hopkinton High School's Drama Ensemble performed this year's annual fall musical 42nd Street from Nov. 19-22 at the Middle School auditorium.
42nd street is about a young striving actress named Peggy Sawyer, played by senior Grace McLaughlin, who arrives in New York City to pursue her dream of becoming a Broadway star. The young and talented performers learn about show business and discover which relationships are most important in life.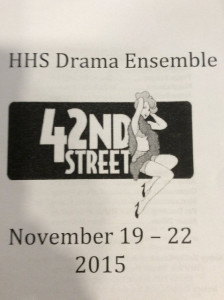 The students spent many hours rehearsing for the show. Many students in the play did not have any prior tap dancing experience before the musical.
"I didn't realize there was a dance break, I had no idea and this was two weeks ago," said stage director, Valerie von Rosenvinge. "I was so focused on everything else that I didn't pay any attention to that. And in about an hour and a half we put the whole thing together, it took them a few times to master all the moves and all the patterns and I look at that and just think it's incredible how that was just two weeks ago."
Once the performance had finished there was an incredible number of positive responses. The audience members constantly clapped and laughed throughout the play, Displaying their support and encouragement.
"This was a big tap dancing show and I've always done tap dancing so that really intrigued me to join this year's play," said senior Megan Donovan, who portrayed the role of Phyllis Dale in this year's musical.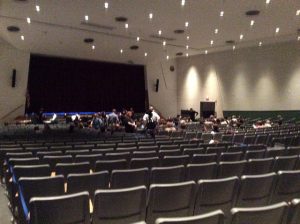 "It's not just about the lead, or the spotlight it's about everyone and how hard they worked because so many people did not know how to tap dance in September and their amazing!" said McLaughlin.
"They are remarkably talented kids and this is a pocketful full of individuals that I have the pleasure of working for most of them start freshman year all the way up to their senior year and they are supportive, they are kind, and I see the best of your generation in them," explains von Rosenvinge. "This is totally student run. They own it, I'm just guiding them to the place where they can do that."
"My favorite scene was probably 'We're in the Money'" said senior Jack McAuliffe, who played Billy Lawlor in 42nd Street. "It's just a whole lotta fun. It's really happy and upbeat and we spent a long time working on the music and the dances and I think it ended up with great positivity."
The cast received a standing ovation on their second night.