HHS Class of 2016 Gets Creative for Senior Halloween
The senior class of Hopkinton High School displayed their unique halloween costumes on Friday, Oct. 30 for the annual senior halloween event.
The majority of the senior class wore group costumes. The best overall group costume was awarded to the hungry hungry hippos; a life sized game of hungry hungry hippos weearing colorful fat suits.
The fan favorite group included Michael Fajardo, Dan Delaney, Josh Martel, Mark McCluskey, Joe Lanen, Will Karpenski, Jeff Foster, Nikolai Saporoschetz, and Billy Allen.
"We decided to keep our costume a secret because we thought that people would appreciate it more if it was a surprise," said Fajardo. "We spent the day before making our costumes and woke up really early to get a spot in the atrium. Completely worth it though."
"My favorite costume was most definitely the hungry hungry hippos," said freshman Katelyn Sylvester. "But everyone was so dedicated and put so much time into their costumes."
The other costume awards given out at the event were best individual, funniest, scariest, best pop culture reference, best do it yourself (DIY), and most creative. The winners were determined by HHS staff who voted for their favorite costumes that matched the award themes.
The costume awarded the scariest was also a popular costume among students and staff. The "cereal" killers dressed up the cereal mascots Captain Crunch (Alli McNulty), Tony the Tiger (Emma Zack), Buzz the Bee (Jen DePatie), Silly Rabbit (Brigid Marquedant), and Lucky (Chrissy Leonard). Their costumes included jail jumpsuits and mug shot boards.
"Halloween was so much fun but very tiring," said Marquedant. "My group woke up at 5:00am but it was worth it!"
Students from other grades walked around HHS before school started and watched the senior groups who put on performances that matched their costumes.
"I was a little overwhelmed at first because I did not expect everyone to go so crazy for Halloween," said freshman Maya Zent. "I can't wait until I'm a senior, this seems like such a fun day for them."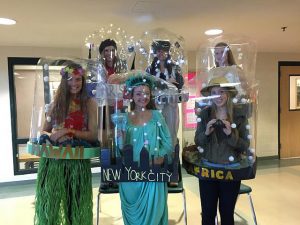 The awards ceremony was emceed by class of 2016 advisors, Mr. Flanagan and Mr. Greco. They joined in by dressing up as Dumb and Dumber.
Best individual costume was awarded to Keith Blackstock who dressed as Frozone from The Incredibles.
Funniest costume was given to a group who held an aerobics class in the HHS atrium.
Best pop culture reference costume went to The Beatles who set up a performance outside the cafeteria.
Best do it yourself (DIY) costume was given to the snowglobes. Each girl dressed as a tourist destination and were enclosed in life sized snow globes all day.
Most creative costume was awarded to a group dressed as an art museum. Each person in the group painted themselves as popular pieces of art and held frames around their faces.
Before the awards ceremony, the senior class gathered in the cafeteria to enjoy a free breakfast for their hard work and dedication towards to costumes.