Book Club Hosts a Halloween Movie Night
Hopkinton High School's Book Club hosted its first-ever Halloween movie night event on October 22.
The HHS Book Club planned to screen three scary movies that were displayed on separate screens. The movies consisted of Beetlejuice, Hocus Pocus, and Twilight. Ultimately, the students decided on Hocus Pocus, which was by far the most popular movie watched that night.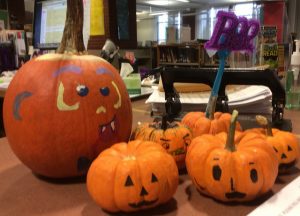 "I liked watching Hocus Pocus with all my friends. It was really fun," said senior and co-president of Book Club, Hannah Sherffius.  "It's also a great way to promote Book Club and encourage people to know that we are always promoting fun events!" 
There was also a section where students could practice their arts and craft skills by designing and decorating pumpkins to get in the Halloween spirit. Students were encouraged to bring their own supplies and purchase mini-pumpkins provided by Book Club.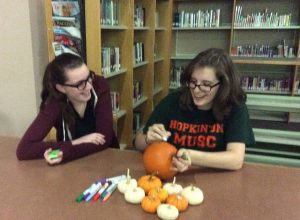 Halloween themed candy and snacks were available, as well as Halloween themed stickers and tattoos.
Book Club was used the library's 3D printer for the first time to create Halloween themed bookmarks.
"I really enjoyed watching Hocus Pocus and we should host this event every year since it was very fun," sophomore Brianna Maloney said.
The public event was promoted to celebrate the upcoming holiday and get everyone into the Halloween spirit.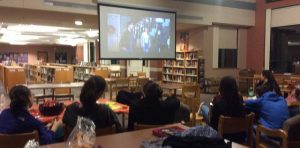 "I was so happy that people showed up, because I have been promoting this event for the past couple weeks!" said school librarian Mrs. Belcher.
The night was a great success.