Meet Red Cross Club
Hopkinton High School's Red Cross Club, run by senior officers Mark McCluskey, Joe Lanen, Josh Martel, and Sabrina Martin with assistance from teacher advisors Jennifer Griffey and Renee Hilbrunner, is dedicated to encouraging students to improve their own communities and communities across the country.
The American Red Cross organization was created to help give aid to those in need. High schools nationwide have created clubs to involve students with the organization.
Students that join the club at HHS participate in various fundraisers to raise awareness and support for disaster relief, military families, blood donation, health and safety, and various humanitarian causes from around the world.
"The environment in Red Cross (club) is really great, everyone is there to have fun," Martel, said. "The fundraisers are all really cool and interesting and anyone is welcome to join."
The club conducts various fundraisers over the course of the school year including the annual blood drive, in which students sixteen and older are able to donate blood throughout the school day.
Hilbrunner, English teacher and co-advisor of the club, explained what fundraisers they have coming up including one in November: "We will be hosting a fundraiser called 'Pennies for Patients' which spare change will be collected and donated to the Leukemia and Lymphoma society."
With Griffey and Hilbrunner only in their second year of teaching at HHS, both saw advising Red Cross as a positive way to integrate themselves into the school and into the community.
"I enjoy working with students in different environments outside of the classroom" said Griffey, co-advisor of Red Cross Club and history teacher. "Red Cross Club needed an advisor, so I thought it was an excellent opportunity to work with students on meaningful community service activities."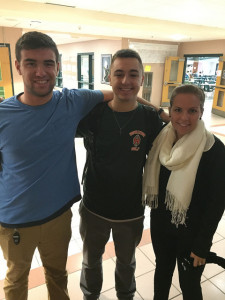 Red Cross Club meets one Tuesday a month, in room A219. If you are interested in joining be sure to contact one of the officers or advisors.