Mr. Scott: HHS' Valuable New Teacher
At the end of the art wing is room C207. This room is unlike the other rooms around it. The room is full of tools, drill presses, and building materials. The room belongs to Mr. Scott, a teacher new to Hopkinton High School this year.
Scott previously worked at Natick High School, spending 12Â years building their engineering program.
Mr. Scott started off his career working with his father at his father's building maintenance company. He worked with his father for five years before deciding to go back to school.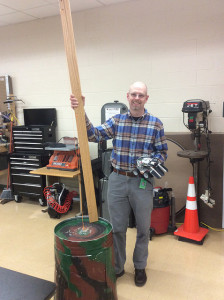 After graduating from Framingham State with his teaching degree, Scott became a teacher for Natick High School. He spent twelve years at Natick building their engineering program.
While at Natick, he experienced his most proud moment as a teacher: when he worked with a group of students on a project as part of the Lemelson-MIT program. "They produced one of the most well built systems I had seen students develop at a high school," said Scott. Their system was ultimately featured at the White House as part of the White House Science Fair in May of 2014.
Scott is always working on improving his classes. When asked what about how he spent his time, he responded, "I don't know how to turn my brain off in regards to school work. I'm always trying to come up with new ideas, projects, or curriculum for students." Though, when he is not in school, he can be seen with his family or on the ice playing pick-up hockey with his friends.
While he is at Hopkinton, Scott wants to see more gender diversity in the engineering classes to reflect real life. "Life is coed," he said.
Scott hopes to be able to add more offerings in engineering. Currently, he is the mentor for the new EPICS club as well as the VEXIQ team at Hopkinton Middle School, which hopes to get more students interested in engineering at a younger age.
Mr. Scott is a great addition to the staff at Hopkinton. He enjoys what he does and enjoys the people he does it with.