EPICS Club Designs New Outdoor Classroom
The EPICS club is currently designing their first project, an outdoor classroom, which will provide Hopkinton High School students with a new atmosphere where they can learn, and a different environment where teachers can teach. Â 
"It will be a great place for teachers to do demonstrations that they would be unable to do inside of the school," said Keith Blackstock, co-founder of the club. "Some of the liberal arts focus classes could have a lesson that could benefit from just being outside."
The members are planning on having the classroom be dug into the ground, where each row of seats is a step lower than the row behind it. Â They also plan to include lights, wifi, and a whiteboard on the front wall. Â However, the design is subject to change.
EPICS–short for Engineering Projects In Community Settings–is a new club at Hopkinton High School. The club uses engineering projects to help the school community. Â The club hopes to help the community of Hopkinton.
"Our school doesn't have enough focus on community projects and engineering," said Sarah Fromer, co-founder of the club.  "We just don't have that emphasis on the technological side."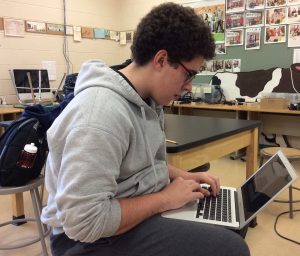 The club draws in members because an array of talents in each member is needed to complete the projects.
"It requires more aspects than just engineering," said Kyle Heavey, club member. "We need people who are good at PR, math, and design."
One problem that the club faces is the lack of diversity in the members.  While the club has around ten members, almost all of them are seniors and are male.  
"I continually try to get more females in engineering," said Mr. Scott, club advisor and engineering teacher. "There seems to be a stigma that engineering is a boys activity, but in reality, it's like life. It's co-ed."  
Blackstock added, "We would also like to see some underclassmen come here."
EPICS club meets after school on Tuesdays in room C206. Everyone is welcome. Â