HHS Takes On Spirit Week
Students at Hopkinton High school gleefully expressed their school spirit during the school's annual Spirit Week, which began on October 6.
The week commenced with Pajama Day. Underclassmen expressed their school spirit by wearing their colorful onesies for the special occasion.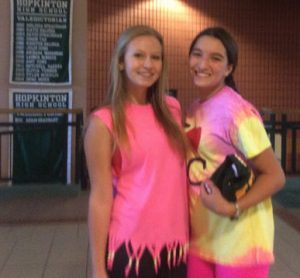 Other days included Tourist Tuesday, America Day, Color Blast day and, finally, Hiller Day, which took place on Friday, Oct. 9.
Spirit Week encourages students to dress up and display their creativity based on the theme of the day. A large number of students participated in this year's spirit week.
The students eagerly prepared for Friday's pep rally as they dressed up in outrageous outfits truly expressing their pride for HHS.
Senior Sami Esper agrees school spirit week is important. "It's fun and it gets everyone involved together and most people participate," said Esper.
Students expressed their enthusiasm for the week by taking pictures with classmates and choosing outfits that showed their unique personalities within their outfits.
Many students believe that Spirit Week brings students closer together.
"Spirit Week gives the school a sense of unity and togetherness," said sophomore Caitlyn Wilson.
Senior Claire Levenson agreed. "It makes people want to come to school because it's a fun thing to participate in," she said.