HHS Pep Rally: What's the Point?
Pep rally at Hopkinton High School is always a fun time for the students. They get the chance to dress up and be as goofy as they want. Most people end up with a sore throat from all of the screaming. But why do all this?
"As a class, it's nice to bond together and be one big family." said Samuel Darkow, senior at HHS.
And the bond is very strong. It is hard to describe what exactly goes down at pep rally, but every class somehow comes together, puts aside everything else, and focuses on being together. Everyone seems to have an intensely strong bond.
"Pep rally unites the school," said Julia Altman, senior at HHS.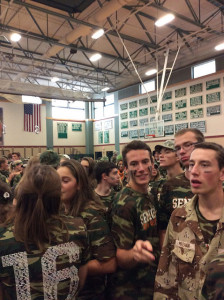 Being united as a school is important. Pep rally itself does a great job of bringing the whole school together, staff included.
One of the biggest events at pep rally is the annual tug of war. The seniors who volunteer always compete against staff members who volunteer, after they beat the juniors. 
This year, however, when the seniors faced the juniors, the rope split in two. Luckily, there was an extra rope readily available. This accident made the entire audience burst out into laughter. Although this was unplanned, once again, it demonstrates how pep rally brings the school together.
Through crazy costumes, exciting games, and overall ridiculousness, the annual pep rally at HHS always provides the students with something to look forward to and enjoy.