Class of 2015 Will Graduate United in One Color
In an effort to be more inclusive to all students, Hopkinton High School graduates will all wear green gowns for the ceremony. The decision is the most recent in an evolving effort to minimize gender based policies that might inadvertently stigmatize transgender and gender fluid students, but is part of a broader effort to ensure safety and acceptance of all students.
The Massachusetts Department of Elementary and Secondary Education has made it clear that gender policies must be re-evaluated. In their report 'Guidance for Massachusetts Public Schools', they state that "Gender based policies, rules, and practice  can have the effect of marginalizing, stigmatizing, and excluding students…schools should consider alternatives to them." 
Mr. Bishop also acknowledged that after two or three years of discussion with the School Council and staff, it is the right time to make a change.
Mr. Bishop stated, "I know that change is never easy and causes a little anxiety. But to do things the way you've done them in the past, just because that's how you've done them, is not always the best way to go about doing things."
Furthermore, Mr. Bishop made it clear that the student voice is important, saying, "It's important to me that they are part of the decision. I want them to have a voice in it." The Class of 2015 will get to choose from four different graduation robe options and vote on their favorite. 
Sadly, Trans Student Educational Resources reports that 80% of Trans students have felt unsafe at school, because of their gender expression, and 41 percent of Trans people have attempted suicide.
A number of schools have recently started taking steps to address this crisis.
One thing schools are doing is changing the graduation robes from two separate colors, based on gender (such as Hopkinton's past white for female and green for male), to just one color which is therefore gender neutral.
Hopkinton is following the lead of progressive schools around Massachusetts, like Sharon, Franklin, and Medway in making the change to uni-color robes.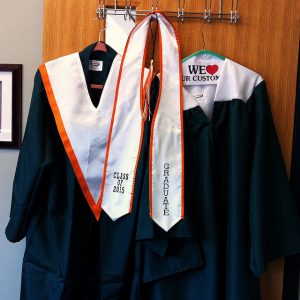 Principal of Hopkinton High School Evan Bishop expressed that he is making this change for a few reasons, one of them being because, "it's extremely important to ensure that all students feel safe, supported, and included here at the high school."
Wellness Department Head Bruce Elliot supported the decision, saying, "Individuals should have a right to express their gender identity and expression."
Class of 2015 President Graham Kulig also spoke, saying, "I think Mr. Bishop is doing the right thing."
Mr. Bishop is optimistic about student reaction, saying, "I expect students to accept this decision, to be supportive of the decision, and move forward as the class."