HHS Adds an Ice Rink
Jillian Sullivan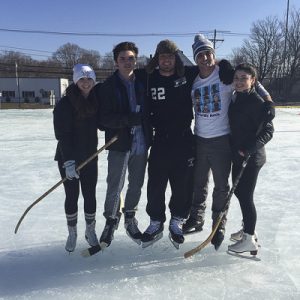 To the excitement of many students at Hopkinton High School, an ice rink was installed on top of the High School's basketball courts for the winter by Hopkinton's Parks and Recreation Department.
Christa Cosmo, a senior at Hopkinton High School, has been using the ice rink frequently with friends. "I absolutely love it. Hopkinton is a small town, so usually when we want to do something, we have to drive to another town. Now, there's actually something new and exciting to do right in our town!" She said.
"Even the closest ice rinks to Hopkinton are still pretty far away", said Caitlyn Wilson, senior at the school, "And ponds aren't always safe to be skating on. Thanks to the basketball courts having lights, we can even skate at night if we want to."
"Everyone has been very good about sharing the ice. My friends and I went once and there were boys playing hockey and all we did was ask to have half the ice and they were happy to share it with us." Cosmo reported. "I've even seen younger kids out on the ice being taught how to skate early in the morning. It seems like everyone is finding a use for it."
Kyle Canty, Junior at HHS, said "I feel like hockey is the only sport that didn't have a place for the team to practice on their own time in close proximity to the school, and I'm glad they changed that this year."
"I've seen the hockey team out there a couple of times", said Cosmo, "They're good about sharing too, and including other people if they want to play."
"They are great about sharing! Just the other day, my friends and I were skating and playing with a couple of other members of the team who included us in their game." reported Wilson.
"The Ice rink is a fun and safe environment that keeps students active and gives them a chance to get to know each other!" Canty said.
The ice rink is located at Hopkinton High School, 88 Hayden Rowe, on top of the basketball courts. It's free to anyone for use.