Hopkinton– The Girl's Varsity Basketball team of Hopkinton High school faced a tough loss to the Westwood Wolverines with a score of 35-60 this past Friday, January 9, on their home court.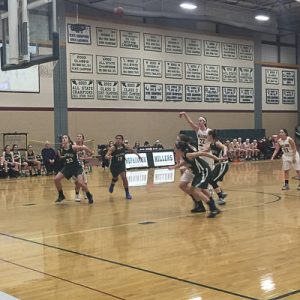 Senior at Hopkinton High School and Captain Elise Chandler said "Coming into the game we expected a talented team, and that is exactly what we got. We knew that Westwood was going to be a challenge, and even though this game did not go well, it only makes us more prepared for the next time we face Westwood."
Julia Canestrari, a sophomore at Hopkinton High School, led the Hillers on the scoreboard with a total of 13 points. "Julia had great shots through the whole game and made a lot of her free throws which really helped us." Chandler said.
"My Co-Captain Holly Adams played great defense. It's not easy to be one of the tallest players on the court, but she was aggressive and hung in there despite everything else that was going on in the game." Chandler reported. Holly Adams contributed 6 points to the scoreboard.

The Hopkinton Hillers Girl's Varsity Basketball team plays next on Tuesday, January 13 on their home court.