School Is Pretty Preppy Already
By: Shae Feather
For this year's annual Spirit Week, 'yacht day' was selected as Tuesday's spirit theme and it triggered a mild controversy among students about whether dressing for this theme shows Hiller pride due to the school's preppy reputation.
For some students, this was seen as a great opportunity to really show some school spirit. For the rest, the day seemed pointless due to the popular trend in Vineyard Vines Clothing among the student population.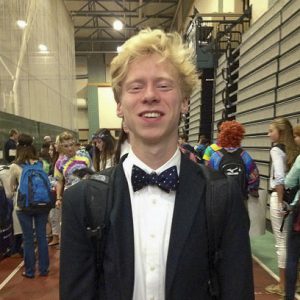 When asked about his day-to-day attire, junior Jack Cote replied, "I try not to dress like this on a regular basis because it's kind of conformist and cliché," confirming the common preppiness within the student body. "I only own three articles of Vineyard Vines clothing- two shirts and a belt for Easter occasions," said Cote.
Junior Michaela Kosa said, "the way I see it is that people are stereotyping themselves. The school is somewhat divided in it's preppiness. Most people are dressing how they would on any given day."
According to Junior Class President Austin Schofield, Yacht Day is "a fun day where Hopkinton kids don't have to dress differently. We usually dress really preppy." Schofield said the reason this day was chosen is because "it's just really fun to dress really preppy when there is a bunch of hippies running around," referring to the Senior spirit day.
Junior Mark McCluskey also commented on how easy dressing up for the day was. "I like it and think that it is a good day because I didn't have to buy much for it. I just went in my closet and threw on some of my preppy stuff. For some spirit days, I spend at least fifty bucks, so this is good."
Though the opinions on 'yacht day' were mixed, Spirit Week 2014 was another success and built excitement for Pep Rally and the big homecoming football game against Medfield last Friday.