Senior Entrance: One Last Charge
By Jillian Sullivan
Pep rally at Hopkinton High School represents one of the seniors last chances to make a statement to their peers, and they are known for doing so by making a grand entrance into the rally as it begins.
Class officers are usually in charge of running the senior's entrance, but this year's senior class delegated the task to their peer and member of the class of 2015, Maddie Dragsbaek. Dragsbaek has choreographed a routine for her classmates and is confident in their ability to perform.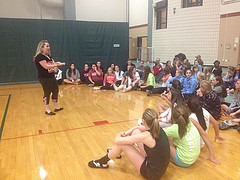 "In years past, I've volunteered to put something together for our class skit but it never worked out. This whole thing has kind of been an idea in the making since I was a freshman." said Dragsbaek.
The entrance represents class pride, and Dragsbaek has the background to make it into something spectacular that the seniors can be proud of. "I have been taking dance since the seventh grade, and I'm a hip-hop dance teacher for regular classes as well as competition teams."
This is one of her biggest projects. "I've been working on this completely alone with occasional help from classmates Ashley Olafsen and Graham Kulig. It's been extremely stressful because of the expectations everyone has."
Past years have never had choreographed routines and mostly consisted of running and chaos. "This is actually put together. It's simple, but it's going to be interesting to watch." Dragsbaek said. "I'm just looking forward to seeing if we can actually pull this off and if I'll get to walk back to the bleachers knowing that I actually did this even though people were unsure of my ideas."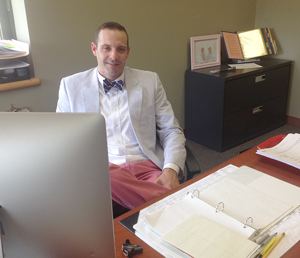 Principal of Hopkinton High School Evan Bishop has been keeping a watchful eye over the seniors and working closely with them to make sure everything runs smoothly on the big day. "We had practice last night from 6:30 to 7:00, and there was probably 50% of the class there so most of them were missing and will have some catching up to do," Bishop explained; "They have a cool theme, but we had to change a couple of things at the practice to make it a little more mainstream."
"My main concern is safety. I want the seniors to have fun and to enjoy the entrance, but I also don't want everyone jumping all over each other," Bishop said.
"The seniors have done a nice job this year. I'm excited to see how everything turns out." explained Bishop. "I was impressed with the organization of it all. This is my fourth time going to see a senior entrance practice, and this year's is by far the most organized."
Of course, no one is more excited for the entrance than the seniors. Victoria Esper, a senior at the high school and participant in the entrance said, "The practice went so well. It was actually a lot better than I expected. I thought it would be messy, because usually people tend to not listen to their peers. But everyone was focused and wanted to learn."
Vice President of the Class of 2015 Ashley Olafsen agreed. "I am so grateful that we have had someone so amazing doing the choreography, because it came out great, and it is a huge weight lifted off of my shoulders." She said.
"It's our last time to do it and to make a statement, and it's a reflection of who we are as a class." Olafsen said. "Everyone's been really good about feedback so far and helping with the process. I'm just hoping the final product will come out as good as we expect."
With this Friday quickly approaching, students and faculty will be able to see just how well the rehearsal and planning paid off at pep rally. Parents and the community will be able to view it on HCAM, as well.