Hillers Student Memo #6
Brought to you
by Asst. Principal Hanna
Hiller Pride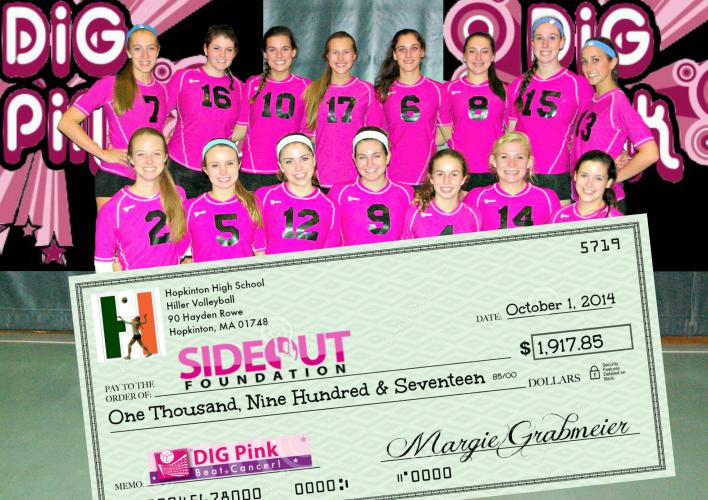 Hiller Volleyball's Dig Pink event raised nearly $2000 for the Sideout Foundation, to fight breast cancer.  Winning with pride. Proud to be a Hiller!
Student, Team, or Club Spotlight of the Week
Every October, schools and organizations across the country join STOMP Out Bullying in observing National Bullying Prevention Month. Participate by being kind to one another. Pretty simple right? Make it a point to help someone out… That's all we are talking about.
---
Relay for Life will be having a hypnotist event
October 6th (Monday) from 6:30-8 PM
HHS Auditorium.
Admission is 10 $
Class of 2016 is having a fundraiser
at the Westborough Chipotle
on October 14, from 4-8 PM.
Food with Integrity!
Work with young artists
taking the "Clay Creations"after-school class
taught by Elmwood art teacher Ms. Muir.
Course runs 9/30-10/18.
For details, contact Ms. Muir at [email protected]
---
Contests
MIT INSPIRE
MIT INSPIRE, is a new national research competition in the arts, humanities, and social sciences, organized by MIT students exclusively for high school students. Expert judges will award prizes for the most outstanding work in each category. They have recently updated the website with new information regarding deadlines, eligibility criteria, and the application itself. (See getinspired.mit.edu). The first deadline, for abstract submission, is on January 7, 2015, so there is still plenty of time to work on your research projects.
MIAA Video Contest
Students from all MIAA Member Schools are encouraged to submit entries. Show your creativity and express yourself in a literary work or multimedia presentation on the following topic: "Social Media and Sportsmanship, How do they work together? " First Place ($400) and RunnerUp ($200) Contest winners will present their entries as honored guests during the 21st Annual Sportsmanship Summit at Gillette Stadium on Friday, November 21, 2014.
---
Tech Tip
Make sure you are using only HPS wireless for your devices (including your phone). Please visit the Tech Center if you need any help getting connected.
---
Library News
The HHS Library will soon be offering brief "book talks" for those students interested in previewing some of our new materials. Please see Ms. Fournier or Ms. Belcher for more details!
And the October issue of the library newsletter is now available!
"Whatever the cost of our libraries, the price is cheap compared to that of an ignorant nation." ― Walter Cronkite
---
Managing Stress

Rashida Rowe Quotes & Sayings from searchquotes.com
---
Video Clip of the Week
Taylor Swift – "Mean"