BeFree: A New Vision
By Sydney Emerson
Hopkinton High School's BeFree Club, created in order to give students fun events that are free of drugs and alcohol, is shifting away from solely musical events and looking to expand into sports-related activities, as well as developing a new leadership team to run the club.
This is BeFree's second year being a school organized club. It was previously run by members outside of the school and in the community. Club Adviser and guidance counselor Kiely Murray took on the club last year.
"Last year was the first year BeFree was a school club, so I jumped in not really knowing what to expect. Leaders just emerged and we didn't have a set system," said Murray. "We call what we have now a 'Leadership team'. I asked applicants what they could do to elevate the bar. I wanted kids that were committed, but not overwhelmed with extracurriculars."
The way the officers were chosen this year was different than the past year. At the end of last year, interested club members applied to become official officers. This resulted in a fourteen person leadership team.
There are about about seven subgroups within the team, each with their own responsibility. These groups include advertisement, mission development, performer officers, and event coordinators.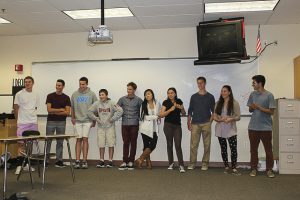 Senior Nina Augustini is an officer in charge of event coordination. "Something new this year are events not having to do with music. For example, our third event is a handball tournament, which is already on the schedule for sometime in November," said Augustini. "We are still doing what we usually do, two coffee houses and two jams, but we wanted to add a variety of events."
Murray emphasized this, saying "kids think BeFree is just for performers, but it's not. I have officers that aren't particularly musical, but are still very involved with the club."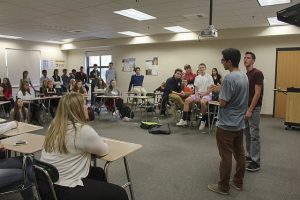 Sophomore John Katz, an officer of the club, agreed, encouraging people who have no musical interest to join the club. "That's a big focus of the club this year. We're trying to branch away from the only-musical reputation that we have acquired."
Junior Jack Cote, another officer, said "it's just a great group of kids. Everyone is so kind and caring for each other. I enjoy the music too. We have some truly talented people in this town, and it's awesome to hear everyone doing what they love."
"I like being in BeFree mainly because of the goals and the people who are involved in it. Making sure that there were things to do on weekends for kids who weren't interested in drinking was important for me because that wasn't what I wanted to do myself," Katz says.
BeFree meets in room A218 every Thursday. The kickoff event, BeFree's fall jam, will be this Friday, October 24th, at the high school.