Jason Tau: An Aspiring Leader for The Class of 2017
By Janvi Puri
Q: Â What motivated you to run this year? Or, in other words, what inspired you to want to be elected in your position?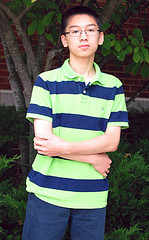 A:  Honestly, I was unsure about running until the day I got my nomination sheet (which also happened to be the last day of sign ups). What really motivated me to try my hardest was the support I received from my friends and classmates when I asked them to sign the nomination sheet. 
Q: Â What are your top three goals for the class?
A: Â My top three goals for this class, in no particular order, are to: Â 
Organize more dances/social events
Organize more competitive social activities (capture the flag, dodge ball)
Create fundraisers to earn more money for our class
Q: What is the biggest problem in our school in your perspective, and how would you plan to solve it?
A: The energy levels of students. Many students are tired in class and this effects learning and enthusiasm. I believe this is due to the amount of stress each student has. I can't do much about this, but I'll try to help as many people with homework as possible.
Q: How do you plan to set an example for future class officers, or underclassman?
A: I believe the best way to lead is by example. Helping out others and being a good person is a great way to set an example for others, and I plan to do this throughout high school. I will also try my best to be a good leader not only in student government but also in class and in school.

Q: Do you feel that one negative aspect of the High school experience is either not focused on enough, or overly observed?
A: Yes, I do. It is the stress that is put on each of the students when multiple tests and projects are all crammed into a short period of time. Being a student myself, I have already had to deal with this on multiple occasions in 9th grade, and I'm sure most other students have too. I believe more attention should be put to spreading out assignments overtime, reducing the number of "homework-free" weeks along with the number of "there's so much homework my brain is going to explode" weeks.

Q: What kind of leadership skills do you think you will gain when you are a part of student government next year?
A: One simple skill I hope to improve on and potentially master as a leader is crucial and quick decision making, for when things go wrong. Another skill I hope to learn is how to better deal with stress as a leader.