Brian Prescott: Returning to Teach in His Hometown
By Cassandra Boyce
Brian Prescott, a 2008 graduate of Hopkinton High School, has returned to the high school as a history teacher this year. Prescott teaches the ninth grade World History course and an Introduction to Psychology course.
Prescott attended UMASS Amherst and graduated with his bachelor's degree in history in 2012. "I realized it was something I was very passionate about. I had tried  other subjects earlier in college, and I kept wanting to go back to the humanities," said Prescott. He went on to get his masters in education because "being a teacher was always my long term goal."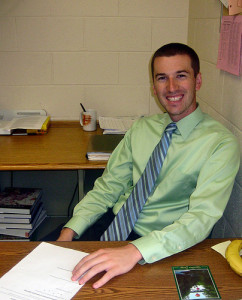 Prescott applied for the teaching position at the end of the 2012-2013 school year and was hired in June of 2013. He jumped at the opportunity when he heard that there was a position opening up. "It was almost kind of a happen stance… because Hopkinton never posted any of their jobs online, I didn't think there were openings," stated Prescott.
The interview committee included teachers, administrators, and one student. The student chosen to be on the board was Drew Johnson, who is currently a senior at Hopkinton High School.
"There were 13 applicants and we selected two to go on to the next stage in the process… I really liked the fact that I could connect with him. That was the main point made for or against candidates in the process. Mr. Prescott definitely had that ability to connect with students which is key for any teacher," said Johnson.
Sarah Ellam, who taught American Literature to Prescott during his junior year in High School, is happy to be working with Prescott as a colleague. "He's very energetic and positive…he worked very hard and was very responsible and mature… He was also fun, so he brought energy to the room too… He was just a really good kid to have in class."
Students report that Prescott displays the same energy and devotion in his teaching as he did in his learning.
According to Emily Mastroianni, a student in one of Prescott's world history classes, "He explains things thoroughly and clear, and I'm never afraid to ask him questions… I really like Mr. Prescott's style of teaching. It is very visual and easy to understand."
Prescott would describe his style of teaching as engaging. "I try to relate the course material to their lives and their perspectives because I feel like it makes it easier for them to engage in the material that way," said Prescott.
His students truly admire his positive enthusiasm and energy. Camryn Boyce, another ninth grade student, commented, "You can really tell that he loves his job and he loves history."
Many of Prescott's teachers still teach at Hopkinton High School, and some of them even inspired him to become a teacher. "Three people immediately come to mind. The first person being Sarah Ellam, she wrote my college recommendation letter, taught me how to write. The next two would be Michael Sullivan and Steve Simoes," said Prescott.
"I just love that he's back because he is such a good role model for students," stated Ellam, "He's exactly who should be a teacher. He has a lot of energy and loves working with kids… He's a very genuine person."
Aside from teaching, Prescott is an assistant football coach and is the advisor of Magic Club. "At some point I would like to be involved in the track team…I am also joining Model UN when they go to their conferences at MIT and UMASS Amherst, so maybe I'll get more involved with them," he said.