Student Philosophers Are Out of Control!
By Austin Adams
For over ten years, Hopkinton students have been doing what many people would consider unthinkable – voluntarily staying after school on a Friday afternoon. These students meet in room A204 at 2:00 PM every Friday, and the weekly phenomenon likely has many wondering, "What's the point?"
"The point is to philosophize," says HHS psychology teacher Michael Sullivan, who serves as the advisor for the school's long-standing and hugely popular Philosophy Club, "yes, we write up agendas and we mention philosophers and we quote philosophy, but in the end the point is not to talk about philosophy, it's to do philosophy."
Sullivan, who founded the club with a group of teachers and students a decade ago, says that while many students choose to contribute their thoughts, ultimately the club is whatever students want it to be.
"Our goal is to provide an environment where people feel comfortable hearing others' thoughts and, in many cases, sharing their own. There have been kids who have come for four years and never said a word, and that's great," continues Sullivan.
"Mr. Sullivan leads one of the most welcoming atmospheres I have seen in Hopkinton High School, with teachers, seniors, freshmen, and alumni all joining to participate in hilarious yet in-depth discussions on life," says HHS senior and frequent club participant Todd Ashley.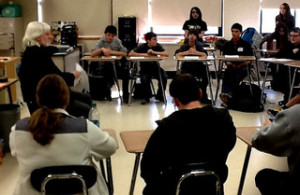 "I really like the fact that it is such a range of ages," adds Sullivan, "At some of our summer meetings we've had people who range from middle school age to alumni to teachers. I think that it's really cool that we can literally have a 40-year age range. That's really special."
It is at these summer club meetings that student philosophers have the most classical philosophical experience.
"We literally sit under a tree like Socrates and his people would have done and do Philosophy," says Sullivan.
What many students seem to take away from Philosophy Club is an experience in which they were able to learn from their peers.
"I think most people in the US would wonder why a ton of kids would stay after school on a Friday, but that's why I like it so much! There are people here willing to stay and I've learned so much from them," says Emma Howe, a multi-year member of the club.
One of Sullivan's favorite aspects of Philosophy Club is that it places everyone on the same plane regardless of who they are.
"Teachers who come are just people, we're all just people. We all become equals," he adds.