Environmental Club: Connecting Global and Local Environmental Concerns
by Lili Kinsella
Hopkinton High School's Environmental Club, headed by junior co-presidents Gabrielle Boyce and Adam Graubart, aims to educate the community about environmental issues and get more people involved in preserving the environment. The Environmental Club meets after school on Thursdays in Room A212.
The club hopes to spread awareness about individual and communal effects on the environment. During meetings, the club tries to make discussions "as relatable as possible by connecting larger issues to smaller problems within our community," stated Vice President Anna Charteris.
In the past, the club has made efforts to educate students at Elmwood School about recycling, composting, and other environmental issues. The club is currently in charge of the school's recycling, and its members go around the school each week emptying the recycling bins.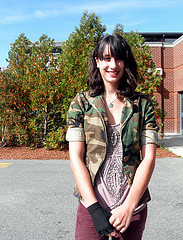 According to the club Co-President Gabrielle Boyce, the Environmental Club hopes to arrange a clean-up of the Charles River and reduce the paper waste usage in the school. The club also aims to hold fundraisers for both charities and the club itself.
Recently, the club underwent a change in advisors. Taking over for Mr. James Marzec, a science teacher at the school, are science teachers Mrs. Catherine McCahill and Mrs. Charlotte Shire. Mrs. Shire teaches AP Environmental Science to junior and senior students. President Gabrielle Boyce is hopeful that "the new advisors are going to make a big change this year."
"There are a lot of things to be done, and everyone has a personal commitment to the environment", states Mrs. McCahill, who hopes to get the entire community involved in recycling and to educate the community about environmental issues.
Mrs. Shire describes the club's members as a "committed group of kids". "There's a lot of enthusiasm in the club, and the students seem willing to take on projects…I'm interested in helping the students spread the word about the environment."
The club is always welcoming of new members. Vice President Anna Charteris remarks, "The club is very welcoming and we all would love new members and new ideas."