Food Review: Bison Burger
By the HHSPress Food Review Team
To the right of the new restaurant Quattro and taking one of the final spots in the recently-developed Hopkinton Plaza is a restaurant unlike most in town: Bison Burger, which behind an unassuming red cartoonish sign and green awning facade serves all-American cuisine–including the titular bison–with equally all-American flair.
Here the appetizer menu, or "Snacky Food," takes up a full third of the menu with robust options that tend toward the casual and simplistic. Nachos, onion rings, and dressed potato skins are ubiquitous options punctuated by atypical choices like chili and bison balls ("seasoned ground bison and cheddar cheese fried in pastry"), all for the most part under $10.00. Two salads seem to be the token vegetarian options, but even those come default with meat, setting the trend for a protein-dominated menu almost utterly inaccessible to vegetarians.
Hamburgers and sandwiches comprise the lunch menu, where you can still escape for under ten dollars if you forsake a drink. Opting for bison on the specialty burgers will add three dollars to the hamburger version of the price, but the portions are nice, and $10.95 for a taste of bison is not the most expensive exotic indulgence imaginable. While it won't be to everyone's liking, the bison is worth a try–simultaneously richer than beef and less cooperative with traditional condiments, for most it will never replace an old-fashioned hamburger for comfort food, yet might make a fun taste-test on a date or with a small group.
The dinner menu is more robust and more expensive, running the gamut from pulled pork and fish and chips to steak and fried chicken and stopping at most other meats along the way–bison meatloaf, of course, included. With a full bar, Bison Burger makes for a surprisingly capable dinner spot for adults, while high schoolers are better off grabbing lunch here, and takeout is always an option.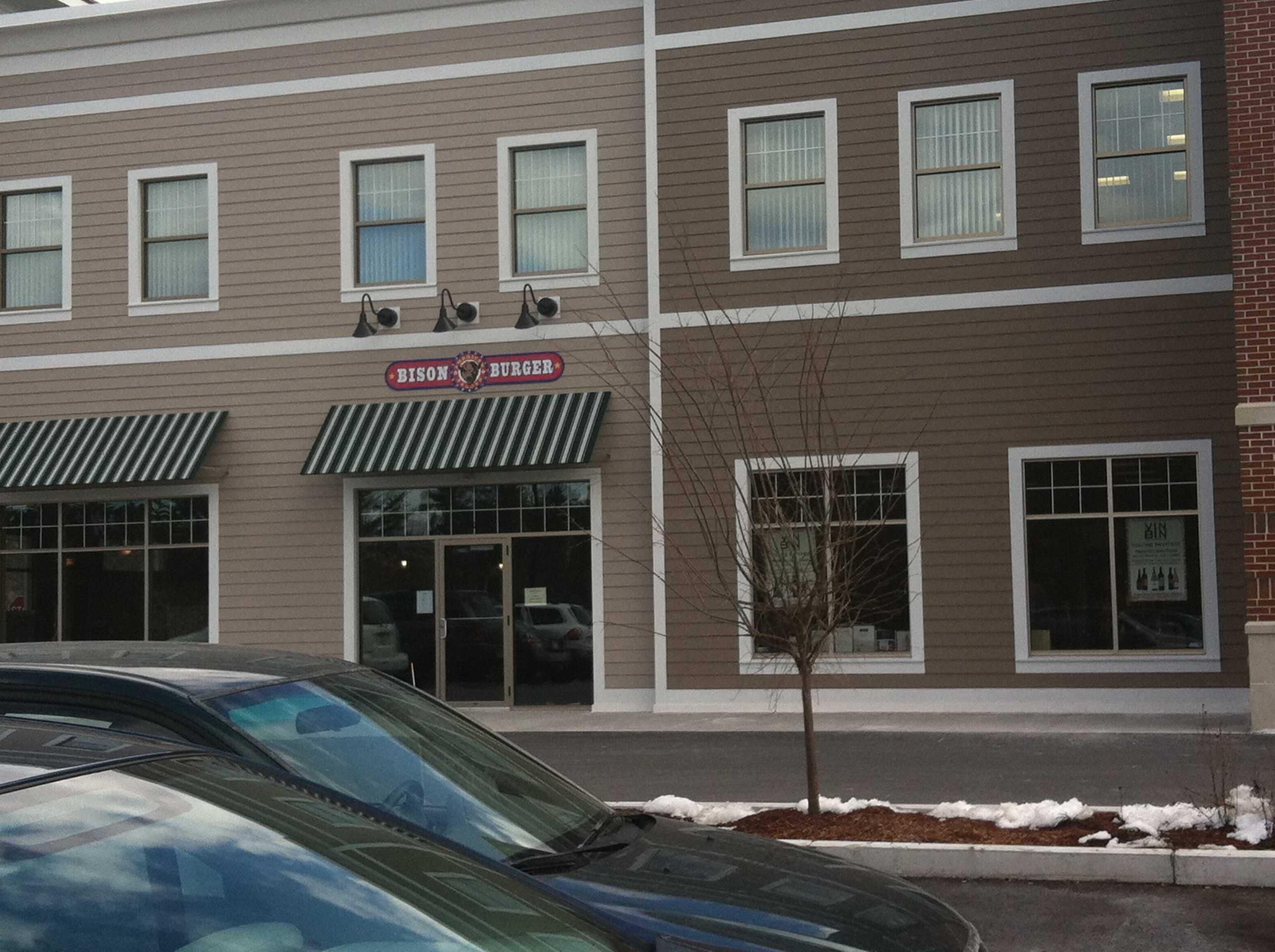 The atmosphere mixes tall clean windows and long hanging lights with woodsy mounted bison heads to mixed results, but the restaurant is clean and still smells new. Service was a little slow, but the chicken was good, the hamburger was tasty, and the bison burgers were well-cooked. Bison in burger form ought to be ordered with as little adornment as you can muster if you want to actually enjoy the flavor, so avoid some of the more extravagant species of burger–Southwest and mushroom, for example–if you go that route. You'll save a little money, too.
The televisions are big and colorful, as much as they conflict with what the atmosphere might have been, and the Freedom Fries, those relics of McCarthyism, deserve their own shout-out: they were a particular delight, flavorful and thickly fried, though stick with the portion which comes with lunch sandwiches; as a separate side, the quantity you get is a couple dollars overpriced at $6.95.
Bison Burger is open for lunch and dinner every day.