Cassandra Boyce: Continuing the Family Legacy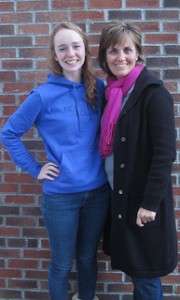 By Kora Sileo
The Boyce family has played a vital role in Hopkinton's Relay For Life tradition over the past seven years. Carly Boyce Cook, who planned the town's first relay, and her sister Cecily have each served two years as the co-chair of the Relay for Life Committee in Hopkinton. Now high school junior Cassandra Boyce finally has the opportunity to follow in her family's footsteps, take the reigns, and lead the committee as co-chair for the 2013 Relay For Life.
Junior Cassandra Boyce and senior Connor Zanini, this year's co-chairs for Hopkinton's Relay For Life, are working together to plan a successful relay. Their overall goals for relay are to mourn the loss of those who have died of cancer, celebrate the lives of those who have been cured of cancer, and raise money for the American Cancer Society via sponsored walkers. Under the leadership of past co-chair teams, Hopkinton's Relay For Life events have raised a total of approximately $900,000 for the American cancer society, and this success is expected to continue under the leadership of Cassandra Boyce and Connor Zanini.
"[Cassandra Boyce]Â has great knowledge of what goes on, how it's run and what is involved with putting on this big event," said Gillian Baudreau, liaison of Hopkinton's American Cancer Society. "She has shown dedication by fitting meetings and planning into her busy school and sports schedule. She is willing to take on anything that is asked of her and is interested in learning from Connor, her co-chair, this year."
Every year, the co-chairs are highly important to making Relay For Life a success.
According to Cassandra Boyce's mother, Jill Boyce, "The event wouldn't happen without them. They are the student advocates. They act as a liaison to the school and without them the American Cancer Society wouldn't be able to come into the school for committee meetings."
Some of Cassandra Boyce's responsibilities as co-chair include attending meetings with Baudreau, attending meetings with the town's Relay For Life committee, making agendas, attending town meetings to request donations, requesting a police detail, establishing dates, and reaching out to survivors and volunteers.
"With the help of our committee, we plan everything. We do so much behind the scenes that most people don't know about," said Boyce.
Jill Boyce added, "It is our responsibility as a family to help with logistics, cleanup, registration, marking off campsites, and cleaning up every last bit of garbage."
All of Boyce's responsibilities work toward achieving the committee's primary goals for the year.
"At the very least we want to raise $108,000, have 1000 participants, have 100 teams, and have 50 survivors," said Boyce.
"Cassandra's organized, she's a good leader, she works well with Connor, she has brought a lot of friends to the committee, and she's ready for deadlines and doesn't procrastinate," said Jennifer Fairbanks, an adult who is actively involved in the committee. "They will be very successful because they're good partners and they're both ready to work."
Despite the increasing monetary success that Hopkinton's Relay For Life has generated over the years, both Cassandra and Jill Boyce believe that the significance of Relay has become convoluted over the years, and they worry that this year's relay may have less significance to the town as well.
"Recently, some participants have been slightly lacking in understanding. The event has become more social than about the event's meaning, and I hope that this year we can put more emphasis on the significance of Relay For Life," said Jill Boyce.
"As long as the vision of relay remains, our family wants to stay involved," noted Jill Boyce.
Cassandra Boyce's parents, Chris and Jill Boyce, have been actively involved in helping the committee with the event since Carly Boyce Cook proposed the idea in 2006. Cecily and Carly have both remained involved in relay even after taking their leave from their roles as co-chair of the relay committee, while Camryn (age 14) and Cadyn (age 9), the youngest Boyce children, are also very involved.
Cassandra Boyce did not simply inherit her position, but rather became one of Hopkinton's Relay For Life co-chairs through an application process and will occupy this position for two years.