To Be, Or Not To Be: Bishop's Decision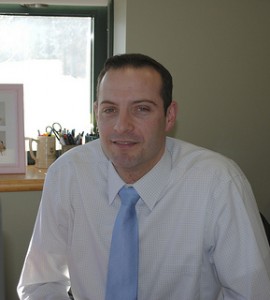 By Madison Whittles
With Alyson Geary leaving the position of principal at HHS, questions have begun arising about who will hold the permanent principal position come next year. Current stand-in principal Evan Bishop is planning on finishing the 2012-2013 school year as principal and hopes to be considered for the full-tine position for next year.
Bishop has worked at Hopkinton High School for seven and a half years and knows that there are many positive things and strengths at HHS, but that there are still some things that could use improvement. He hopes that he can adjust to the new position quickly and then work on these issues.
Despite his plans, it is still unclear whether or not Bishop will wish to continue on as principal for future years.
"I have to make that decision when the time comes, and I am not sure when they will start the interview process," said Bishop when asked if he plans on returning to his former job as vice principal. "I hope that I will be considered as a candidate, but I love being the vice principal."
Despite his love of his previous position, Bishop has assimilated into his new job well, remaining outgoing and very involved with students as the principal. He often walks through the halls in order to get to know his students and make a connection with them, like he did before getting this promotion.
"I didn't see Ms. Geary out in the halls interacting with the students and hopefully Mr. Bishop will still continue to be involved with students and not be in his office all the time," noted sophomore Katherine Blake.
Many Hopkinton High School students agree that Bishop is easy to talk to and very approachable with any problems or questions they have.
"I hope to be as active with the students as I can be. I don't want to stay in the office all the time…however there are many things about this job that can take away from that," said Bishop.
The vice principal and principal positions are very different. Being a vice principal includes a lot of meeting with the students on school issues and interacting with students in the halls and at sporting events, while the principal position consists of running the whole school, taking care of bigger issues, and keeping the school safe and well educated.
In order to make his transition smooth, Bishop worked hard with Geary over the past two months to adequately carry out his new responsibilities. It will be a big job and big change for Bishop.
Many students hope that his personality and outgoing nature will not change through this transition. However, some students, like sophomore Pamela O'Leary, understand that things may have to change in order for Bishop to be successful in his new role at HHS.
"I think Mr. Bishop's personality will have to change a little bit, and people aren't going to want to disrespect him," said O'Leary.
"I know I have [the] full support of Mr. Bishop, and I think that Mr. Bishop is a fair administrator and he is very committed to the students and staff here at the high school," said school librarian Charleen Blecher.
The respect that Bishop has gained over the course of his employment as vice principal is a large help to him during this time of change and uncertainty at HHS.