Behind the Curtain of HMS's Macbeth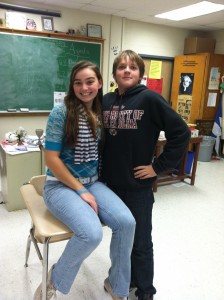 By Colleen Malloy, with Ben Card, Club Editor-in-Chief
Hopkinton Middle School's production of Macbeth, which ran on Friday, November 30 and the following Saturday, was a bold performance of one of Shakespeare's most well-known tragedies, preserving the play's original language even with a cast far larger than the bard ever intended. The show, the HMS's fall play, was selected by director Ms. Hallyann Gifford, who had initially envisioned a theatrical version of Lois Lowry's The Giver before returning to Macbeth, which the middle school had performed nine years earlier. The early switch let Gifford avoid what she anticipated to be thorny rights issues while allowing her to bring the full extent of her experience with Shakespeare to the current middle schoolers.
This year's eighth graders are no strangers to the Renaissance-era Shakespearean literary canon. During their sixth-grade year, these same actors participated in Romeo and Juliet, which, while not a tragedy like Macbeth, created some familiarity between these students and the language that Shakespeare used. Why Macbeth in particular, though? "It has everything middle schoolers love. Madness, magic mystery, and supernaturalism," says Gifford–"and," she adds, "kids who wanna do Shakespeare."
While the show was well-attended and the performances verged on error-free, Macbeth was not without pre-production troubles which played into it's reputation as a cursed play. The middle schoolers faced a truncated rehearsal schedule in the critical few weeks before the performance due to scheduling conflicts with Hopkinton town meetings and HHS's own Les Mis. Gifford was keenly aware of the inconveniences, but recognized that "there was nothing that could be done about it," opting instead to make the most of the time she had with her cast. Backstage accidents, one severe enough to send a girl to the hospital, and impromptu changes in rehearsal settings from the HMS auditorium to its cafeteria punctuated pre-production, but the actors "were ridiculously good" about being "kicked out of the space," and "owned the show."
The flexible cast was helped by a crew which Gifford called "excellent… and so professional" and backed up by four returning HMS drama alumni, now freshmen at the high school. Sean Sanford, Michaela Kosa, Alex Kluchko, and Claudia Librett assisted in choreography and direction as interns under Gifford, who was impressed and grateful for their work.
Gifford took limited license with the source material. In the interest of time she "chopped down some monologues" and shortened some expository scenes and balanced this with the addition of new context and an entirely original scene, the "mourning ladies" sequence which, while invented, derives all of its dialogue from other parts of the play. In this way, Gifford furthers her mantra of adding "not one line Shakespeare didn't write"–not including the decision to preserve the noncanonical Hecate dance scene. The result is a play with familiar language, but an occasionally different tone, as when, significantly, henchman Seyton inexplicably saves the life of one Macduff's children after abetting in the slaughter of the rest. The decision was made by Gifford "to lighten it up," to raise questions about the effectiveness of Macbeth's leadership, and to create just "a beautiful moment in the show."
She says, "When I can just sit around and be stupid—that's when the show becomes the cast and the crew's—then I know we're good."