"Be Positive" Club: Continuing Thomas Weaver's Legacy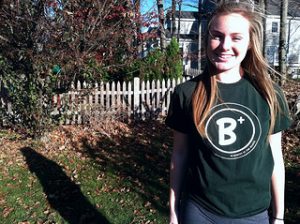 By Lexie Papadellis
Starting next Wednesday, The "Be Positive" club, co-founded by junior Katherine Taggart and senior Jill Lary, will have its first meeting.  This club has been established so that the legacy of 2010 alumni, Thomas Weaver, a fighter who lost the battle with brain cancer, is never forgotten and to make sure that the future classes that come into the high school do not ever forget how amazing his positivity and courage was to all who knew him.
After realizing that the current senior class is the last class who knew Tom and was in the same school during his  battle, Taggart knew something had to be done to continue Tommy's message and legacy in the high school.
"Personally, I was in eighth grade when Tommy passed away. I did not have the privilege to go to school at the same time he was going. The senior class this year is the last to have that privilege. His legacy will forever live on, but I feel as if the school needs an organization to help with that," said Taggart.
Dan Carrai, HHS alumnus, friend, and classmate of Weaver who is currently a junior at Bryant University was grateful for the creation of the club.
"'Be Positive' signifies Tom's optimistic and encouraging outlook on life while battling brain cancer" said Carrai. "It would have been nice to see a club formed earlier to promote Tom's life and 'Be Positive' message, yet I am proud and thankful that HHS Class of 2013 has taken the initiative to construct a club."
One of the two club advisors is Mr. Steve Simoes, an American History teacher who was Weaver's football coach and mentor. He is also excited to see the impact of the club.
"The seniors [of the class of 2013] were one of the last [classes] that really knew his story. Tom as an individual was a great kid but we don't expect people to know or have any particular affinity for Tom," exclaimed Simoes, "We are pretty excited about it."
The primary reason for the club is because of Weaver's impact on the students, faculty, and community members. His message is permanently engraved in all of their hearts. Another HHS alum, Liz Keefe, currently a sophomore at UMASS Amherst who was a Unite mentor with Weaver, carries his words of advice with her everyday.
"I think that 'Be Positive' is the best advice you can give someone. I am always trying to be positive and I think everyone who knew Tom can say the same. Tom was always positive, which makes me want to always be positive," Keefe explained.
Carrai also reflected on the effect Weaver has had on him.
"I am truly blessed to have had Tom's friendship in my life and I am thankful for everything he has taught me. He had the ability to brighten your day by adding a quick, whimsical comment as well as he had the capability of listening and offering his unconditional support".
With so much support for Weaver and this club, Taggart and her other officers now have to create a plan for the club.
"The goal of this club is to spread Tommy's message by helping others," Taggart explained, "There is a meeting on Wednesday, November 14, in which Jill Lary and I are going to talk to all interested members to generate ideas."
Faculty, HHS alumni, and current students are all very excited for the new club to embark. This kind of excitement shows how much Tommy Weaver's message means to them.