The Battle Of The TVL: Seniors Final Brawl with the Panthers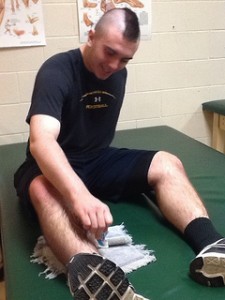 By Lexie Papadellis
The Hopkinton Hillers football team is preparing for their most important game of the season against the Holliston Panthers this Friday night in Holliston.
The stakes are high for Hopkinton as they go up against Holliston, the reigning TVL champions. The Hiller boys are hoping to get their shot at the TVL title and end Holliston's win streak.
"This game definitely has a big impact as a senior", said senior starting safety, Jack Lampert. "Holliston has always been a powerhouse."
"This is our last chance as seniors to finally put Holliston in their place," said senior starting lineman, Connor Sullivan.
The Hopkinton Hillers have fell short against Holliston for the past three years. This upcoming game is the last chance for the seniors to finally beat their rivals. Senior Mitch Campbell, the linebacker and running back, is very enthusiastic about his last opportunity against the Panthers.
"Every time we play Holliston it is a big deal, but now I'm a senior and it is our last chance to really beat them. This is a really big game," Campbell explained.
The seniors also agree that this game is the most important factor in getting the league title and moving on into the playoffs.
"This game will most likely determine who the TVL champs are and who is going into the state tournament. We are the two best teams in the TVL this year," stated Lampert.
Both Hopkinton and Holliston are undefeated in the TVL, Holliston's record (4-2 but 4-0 in TVL) and Hopkinton (6-0 but 4-0 in TVL). From their records, these two teams are a perfect match-up. Despite the high publicity and importance of the game, the team is trying to focus on the four quarters that lie ahead of them.
"You can't really focus on that stuff; you have got to focus on the game. We are playing our best football right now," stated captain defensive linebacker, Erik Strout.
Captain and center Jake Lehman added, "It is easy to get caught up in that stuff but it doesn't show up in practice. We are still approaching it like every other game."
If the Hillers defeat the Holliston Panthers, this will not only mark the Hillers first victory against the Panthers in over at least 5 years, but the Hillers will advance to a 7-0 total record, making them number one in the TVL.
As Lampert puts it, "This is going to be a battle."