Assistant Superintendent DeMello Reflects on Summer as Superintendent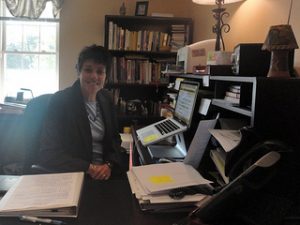 By Karissa Collins
At the end of May, Hopkinton was informed of Superintendent Dr. Jonathan Landman's resignation, effective July 1, leaving the newly hired Assistant Superintendent, Dr. Mary Ann DeMello, as the acting superintendent responsible for finding Dr. Landman's replacement.
Ultimately, it was decided to search for another interim candidate to assume the role while a full, formal search for a permanent replacement was planned. Having only been in the district since January, Dr. DeMello needed to adapt to her new role almost immediately.
"To just have only been here a few months, I am glad that it was the summer time," said DeMello.
In addition to the complicated hiring process ahead, Dr. DeMello recognized the challenges of her newfound position.
"It is helpful to have at least some historical perspective in the central office. I only had a few months, and some of the other administrators had three years or less, so we do not have a long history. That is okay, because we have lots of years of experience in our professions," explained DeMello.
Dr. DeMello arrived from Weymouth, where she spent three and a half years as assistant superintendent. Prior to holding that position, she had a variety of administrative experience.
"I had been assistant superintendent in Dighton-Rehobeth for two years…but I spent most of my career in Rockland, where I was a curriculum coordinator for about ten years. Prior to that I had spent many, many years in the classroom as a science teacher, teaching grades 5-12," said DeMello.
The process of narrowing down the final interim candidate to replace Dr. DeMello included multiple steps.
"A Screening Committee reviewed the applications and identified five candidates to recommend to the School Committee for interviews," explained Jean Bertschmann, member of the School Committee.
Complicating the search process, two of the five potential candidates accepted jobs in other districts, leaving only three candidates available for the position.
The School Committee was then able to narrow down the search to one final candidate, Dr. Steven Hiersche, who was appointed as interim superintendent on August 1.
DeMello concluded, "I think the district is in a good place. Â It's a strong district, it's been functioning well for a long time and that makes it easier when you have a transition. Â It's not like anybody coming here was walking into a mess. We were walking into a nice strong district with good community support, good parental support, hard working administrators, and really professional staff."