Freshmen Begin the 1 to 1 Initiative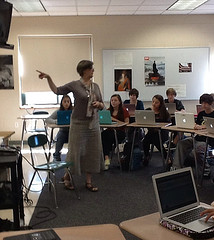 By Blair Guild
The beginning of the school year marked a new age of technological learning for the freshman class of Hopkinton High School as they began the "1 to 1 initiative." The program introduced the use of laptops in everyday classroom learning.
Each freshman was provided with a Macbook if they did not already own a laptop that they could bring to school. The expectation is that they bring their computers to class everyday and be prepared to use it as a tool for their learning.
The 1 to 1 Initiative has been long anticipated and students, teachers, and faculty have taken many steps to prepare and adapt to the new program.
Kathy Dooley, the district Technological Director, played a major role in introducing the new way of learning.
"My role has been to plan and implement the hardware, software, network, professional development and personnel needs to support the 1 to 1 laptop initiative," said Dooley.
According to Dooley, the idea is not just a local goal, but also a goal of the state.
"The Massachusetts Department of Education published a Local Technology Plan Guidelines document which includes recommended benchmarks for schools to follow in implementing technology," Dooley explained. "These guidelines include implementing a ratio of 1 computer per student by 2014-2015."
Principal Alyson Geary is a proud advocate for the program and was very excited to see it take off as the school year began.
"It [the 1 to 1 Initiative] is a vision that I've had for our school for a long time. I'm excited about the long-term possibilities and opportunities for students," said Geary. "I think it has gone really well, in a lot of ways it's been better than anticipated."
"The main goal is to help prepare students for their future. It gives students the opportunity to have technology to use all the time. We also want to make classroom instruction more exciting so students can enjoy classes more and have technology integrated at the same time," she explained. "I've gone in to classrooms and seen the way teachers are using the laptops, and I think they're really excited about what they're doing."
In addition to changing the way freshmen students learn, the 1 to 1 Initiative has changed the way technology works within the school.
"The 1 to 1 initiative has certainly required changes technologically. A brand new wireless system was installed just before school started when it was discovered that the wireless system we had in place was not adequate to handle all the new laptops," said the high school's Data Analyst, Linda Henderson.
"Technology is certainly not a panacea but it can hopefully improve the learning experience and improve student engagement," added Henderson.
The freshmen are particularly eager to use their laptops in class and a have expressed a great deal of interest in the program as they bring their laptops to school everyday.
"I love the laptops. They make it easier to participate in class. All of my resources are right there when I need them," said freshman, Josh Martel.
Another freshman, Dan Delaney, also expressed his interest in the 1 to 1 Initiative.
"I think the laptops are great. They're really convenient and help with activities in class. It's so much easier to have a laptop that I can bring to school everyday."
There is a lot HHS can expect from the program, as far as advancement of education and technology is concerned. The 1 to 1 Initiative has helped Hopkinton High School become one of the most technologically advanced schools in Massachusetts and has helped students learn about technology and develop a deeper interest in their classes.