Intramural Sports Get Cancelled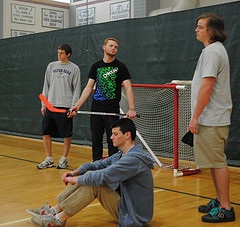 By Connor Engstrom
Hopkinton High School traditionally hosts intramural sports for students in the month of March, between winter and spring sports, yet this year the sports were canceled.  With only a couple teams signed up, the games could not be run.
These sports allowed kids to stay competitive and active in the three weeks after February vacation, before tryouts for spring sports start.  Students could make their own teams of ten players and sign up for either floor hockey or volleyball or both?
Mr. Hooker and Mr. King, teachers at the high school, ran these tournaments for the kids.  They organized scheduling, such as gym times and specific game scheduling. Mr. Hooker, a wellnessteacher, was in charge of volleyball and Mr. King, a science teacher, was in charge of floor hockey.
The  teachers put a lot of time into these games, staying after up to four hours after school, four days a week.  Mr. King said, "it was a lot of work but it was positive work that benefits a lot of kids."
The kids would be after school 2-3 days a week for each sport.  There was a 2 week season, in which all the teams would play each other. During the last week there would be a single elimination tournament.
Students would make  shirts for their teams and get really excited for these intramural sports every year.
Senior Zach DiFranza says he was "so pumped for it every year, I really thought our team had a chance to win the championship".
Many of the upper classmen were excited for the tournament.
Senior Danny Bressler, who has played in this tournament in years past, adds "they said that there was a lack of participation, but I know of so many kids that were looking forward to playing. It really is a let down. Me and my team were ready for competition."
Most of the upper classmen signed up for the tournament had been on a team since they were freshmen.
"The freshmen would get excited even if they lost and they would carry out their teams, until that magical moment in their senior year when they start to win a lot of the games, and thats what made it fun", says Mr. King.
Recently however freshmen haven't been signing up for the sports, making the number of teams decline each year.  Now the only teams signed up for the tournament were upper classmen teams.
Mr. Hooker says "we did it for 14 years and it was very popular but over the last couple years the kids just lost interests.  Mr. King and I think it might be because these sports aren't played as much at the middle school so they have lost popularity.  I can even see it in my gym classes, the kids just don't enjoy floor hockey and volleyball like they used to.  Volleyball had five teams sign up, when a couple of years ago we had almost 20 teams.  And the 5 teams were all upper classmen"
Mr. Hooker and Mr. King are going to try and turn around this slump next year by advertising more around the school before hand to hopefully get it back to the way it used to be.  These sports were a great tradition that would be missed at HHS.