Faith Community Church Takes on Hunger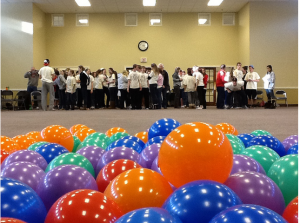 By Zachary Sellman
On Friday, March 2nd, through Saturday, March 3rd, 61 teens from Faith Community Church of Hopkinton fasted for 30 hours in order to raise money for and awareness of the malnourished children in the world.
A total of $14,000 was raised by the participants. That money will go through World Vision to Malawi, a small country in Africa, to feed 77 children for six months.
Karen Cooprider, Director of Student Ministries at Faith Community Church, said "One of the highlights was when we served in the community working on six service projects. We served at Project Just Because, the Respite Center and Faith Community Church."
Jenna Espinosa, a participant of the 30 hour famine and Senior at Medway High School conveyed the importance and impact of the service projects: "It was nice to have the service projects to keep us busy. Not only did we get the opportunity to serve those overseas, but to serve people in our local communities. Just by making some Easter and Spring cards I would be able to brighten someone's day which is such a rewarding experience."
The students spent the last 24 hours of the fast at the church, playing games and having discussions. "We wanted to make sure people had a good time yet understand why we were fasting for 30 hours. We also wanted to make sure everyone was excited throughout the day, keeping their mind off of their hunger and realizing that 30 hours is nothing compared to what millions of people around the world go through," expressed Haley Batchelder, a member of the Student Planning Team and a Senior at Hopkinton High School.
Everyone was given two dollars to break their fast. This way of breaking the fast was chosen because two dollars is the average amount of money a person has in the world to spend on food for a day.
At the end of the 30 hours, the students and adults took communion. In place of bread, they took CSB- a corn soy blend. CSB is what World Vision gives out for food to the needy families in places like Malawi with the donated money.
According to World Vision, thirty dollars will feed a child for a month.
Karen Cooprider states "The 30 dollars a month goes much farther than that. Not only will it help the child it will feed, but it will also impact the families as well as the community the children are living in."
"I raised 180 dollars and that can feed 1 child for 6 months. Knowing that makes me feel like I've made a difference and provided hope for a less fortunate child," said Collin Wiedersheim, a Junior at Hopkinton High School.
The students we divided into five "tribes" at the beginning of the famine. Those tribes competed against each other in games that were not only entertaining but educational. The games taught about issues relating to water, malaria, natural disasters, and food supply.
Karen Cooprider stated "Our goals were to raise $9000 which would feed 50 children for 6 months, to have at least 50 people participate, and that the people who participated would have their lives impacted by this experience. I am thrilled with the outcome. I never thought we would get up to $9000. I thought it was an awesome event. We smashed our goals."