AT&T Texting and Driving Assembly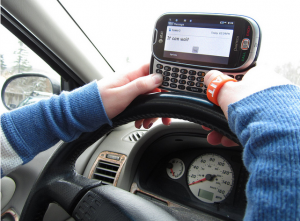 By Jamie Horrigan
Massachusetts State Senator Karen Spilka, Massachusetts State Representative Carolyn Dykema, and AT&T Vice President Dave Mancuso presented the AT&T "It Can Wait" campaign to Hopkinton High School juniors and seniors on Monday February 27th to raise awareness about the dangers of texting and driving.
"The dangers of texting and driving have rippled effects. It's not just you that can be hurt.  It's your friend that might be sitting in the seat next to you.  It's your family.  You [have] a family member with you that gets hurt, or if you get hurt, think of the consequences for your family, another person on the road and their extended family dealing with the death or serious injury of a lost one.  So you are not just putting yourself at risk.  You are putting many lives at risk, " said Senator Spilka.
Mancuso asked the students to imagine driving through a football field filled with hundreds of their favorite people.  But the students are not simply driving.  They are blindfolded.  Starting from rest, Mancuso had the students imagine to floor the gas petal, and the car would reach thirty miles after five seconds, the amount of time it takes to send a text message.
"By the time you hit thirty miles an hour, you would be experiencing exactly what you do every time you text and drive.  And so the likelihood of you not hitting someone, harming yourself or harming someone you care about, is slim to none.  So our message today is very simple for you.  Whatever you have to say in your text message, "It Can Wait."
Officer Powers explained the legal consequences to texting and driving, which include a $100 fine, and a 60-day license suspension for operators under the 18, as a first offense.   A second offense is a $250 fine with a 180-day license suspension, while a third offense is a $500 fine with a full year license suspension.  All cell phone use is banned for operators under 17.
"Since September 30, 2010, that's when the law went into effect, the Hopkinton Police Department [has] issued seven citations. Most of them were motor vehicle crashes," stated Officer Powers.
The students were then shown a ten minute video, provided by AT&T, that demonstrated how simple texts, such as 'where r' and 'yeah,' had deadly implications.
Senior Carolyn O'Leary thought the video was really powerful.
"There is one story that really affected me on a personal level.  [It] was about a boy who was a passenger in a car and was pronounced dead at the scene.  He survived the accident, but now has multiple lifelong difficulties.  At work, one of the residents that I serve has a similar disability.  He is so nice, but he has such a hard time from a car accident he was in.  That is one story that I will never forget for that reason.  I think that is the best way to get a point across; make a story personal for each person.  I know it is difficult, but it definitely works."
Senior Megan Juffras was also moved by the video.
"I never want to text and drive, because it could not only hurt me, but it could also harm my friends and innocent strangers."
The audience was asked if anyone thought they were invincible, and a few hands shot up, but they were quickly shut down.  Although teens were the main demographic for this presentation, adults are also at fault for texting while driving.  Principal Alyson Geary admitted that she has sent a text or two while driving, but has since learned from the incidents.
Students were advised to download a free app that AT&T created, called DriveMode.  When enabled, the app sends an "out-of-office" like response to notify the sender of a message that the driver is unable to respond to the message at the time.   There is also an option to send calls directly to voicemail.  While the app is enabled, text messages cannot be sent or viewed, but settings return to normal once the app is disabled.
"Before you pick up that phone to text, think about the repercussions of that decision," said Representative Dykema.
Senior class officers signed a petition following the presentation, which was also left out during lunch for anyone else who wished to sign.
Thumb bands that read, "It Can Wait," were given out at the end of the assembly in hopes that the students would wear them as a reminder to refrain from texting while driving.
An anonymous senior stated that she thought the presentation was intriguing, compared to others where the students were lectured. "I actually haven't texted and driven since."