Alexis Stefano wins HHS Science Fair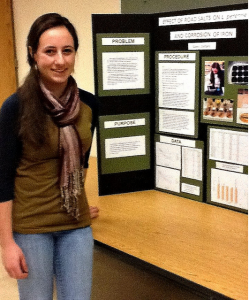 By Blair Guild
Alexis Stefano of the class of 2013 won the HHS Science Fair on Wednesday March 1st with her project entitled "The Effects of Road Salts on L. Perenne and Corrosion of Iron."
In addition to the honor of winning first place and a small cash prize, Alexis qualifies to move on to the Regional Science Fair. If she[places at the regional level, she qualifies to move on to the state level of the competition. After regional, there are national and then international competitions.
"My project started off as trying to think of a real world problem," stated Alexis.
Alexis' experiment was focused on examining the environmental effects of different types of road salts on their surrounding environments and the effects of these salts on iron.
"I was testing the effects of different road salts on seed germination and rusting nails. traditional road salts were much more destructive to grass than alternative road salts. The data of the rusting iron nails is inconclusive as of now," she explained.
Alexis was proud of her accomplishment of first place, saying she "was really surprised but obviously extremely happy!"
In addition to Alexis' project, the other seven entries qualify to move on to the regional level as well. These projects were done by individuals or pairs of students from all grades.
Each year a school may send twelve projects to the regional level. This year with only eight entries, all of the participants moved on by default.
"All of the other participants put an unbelievable amount of time and effort into their projects and did a great job!" enthused Alexis.
Students who participated in the science fair chose a scientific topic, conducted research, and carried out experiments of their choice. The results were presented in the form of a project to seven judges from local science labs in Massachusetts. Among these scientists were experts in behavioral studies, physicists, and more.
The scientists were invited to judge by HHS science teacher Mrs. Lechtanski who also helps lead the Science Fair. "These scientists try to give feedback to the students to prepare them for higher levels of the competition and improve their work," explained Mrs. Lechtanski.
"Science Fair is a class students can take on top of their other classes for additional credit. The class is monitored through a Moodle website that provides students with information and a Google website set up by students using a template designed by teachers," explained Mrs. Lechtanski.
In addition to individual work students also work with teacher mentors.
"Once a student signs up for the course they are assigned a mentor based on their topic," added Mrs. Lechtanski.
Ms. Shire, another leader in the Science Fair process and mentor to students, was hopeful that the students at HHS would progress to the state, national, or even international levels.
"There's a long history of student Science Fair projects at Hopkinton High School, so it's pretty common that we have kids that go on to the state level of the competition," said Ms. Shire.
"Winners at the state level can win everything from internships, to cash prizes, to scholarships," explained Mrs. Lechtanski.