Club Profile: Kick Back and Relax with Book Club's Latest Read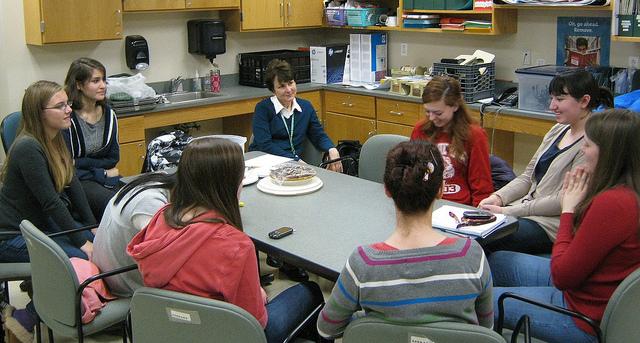 (Editor's Note: This article is part of a weekly series of HHS club profiles.)
By Evan Dackowski
The HHS Book Club, a small group of energetic and enthusiastic readers, meets in the library one Thursday each month to discuss the captivating novels that they have been reading over the past few weeks.
The club is led by sophomore Sammi Arnold and advised by the Hopkinton High School Librarian Cris Bright. The current group of about 15 members reads one book per month, which is chosen through a student poll on the club's blog.
Sophomore member Shannon Moffat claims, "It is very laid back," in response to concerns of the club being "labor intensive".
Members are not penalized for being unable to finish reading books before the monthly meeting. Advisor Ms. Bright aims to "encourage the enjoyment of reading," and therefore prefers her members to savor each novel at comfortable pace rather than feel pressured to complete the books.
The objective of the club is to make reading social and enjoyable for teens.
"Reading is often a solitary experience and a book club makes it social. It also provides an opportunity to read books that might be outside the member's normal area of interest, so it can be a way of stretching reading boundaries," said Ms. Bright.
"Since the books are chosen by the club members, and there are usually two to three books of different styles, it is easy to find a book that you will not be able to put down," said Moffat.
Members enthusiastically embrace the atmosphere that Ms. Bright has attempted to create around the club. When asked about her experience in book club thus far, Maura Maginnis explains that "Book Club is amazing. The monthly discussions are great and it gives me the opportunity to read books I have never heard of."
"You can immerse yourself with others who love to read and lose themselves in a story," explained Moffat, "Our discussions are truly eye-opening and insightful."
Discussions are mainly centered around the likes and dislikes of each reader; however, often times members will relate events from the book to movies, events in their own lives, and even to other books.
"Book club is always open to what we want to discuss," stated Maginnis, "It doesn't have the feeling of an in-class discussion or anything of the sort.  It just gives us a place to talk about our love of reading."