Club Profile: Games Club: A Place to Relax, Compete, and Have Fun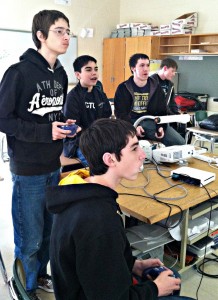 (Editor's Note: This article is part of a weekly series of HHS club profiles.)
By Meghan Murdock
A friendly, competitive environment where students can unwind and enjoy their favorite games with their peers is exactly what awaits students at the HHS Games Club on Thursday afternoons in room A317.
Games Club attracts a wide variety of members, but they all flock to room A317 for the same reasons: relaxation, gaming, and spending time with friends.
"I like it because I get to hang out with my buddies and play video games," said freshman Liam Bushe.
"I like hanging out [at Games Club]," said senior Sean MacEachern. "It's a break for me because I usually go home and do schoolwork."
Laughing students can be found deeply immersed in a game of Dungeons and Dragons, jokingly talking smack during a round of Super Smash Brothers Brawl on Nintendo Wii, or pondering how best to set up the Nintendo Gamecube.
The club is led by seniors Sam Chirco and Matt Clark, and advised by Mr. David Buffum of the HHS Math Department, who describes the club as primarily "student run and student led."
"Games Club provides an area where you can compete with similarly interested students in a friendly environment," said Clark.
"For those who like to have fun, there's something for everyone, from board games to video games to role-playing," said Chirco.   "People can literally find anything to do here; it's very open and relaxed."
The leadership role falls mainly on Chirco and Clark, who set the tone and direction for the club.
"We recruit new members who we know are interested in, or might be interested in, the games we offer here," said Chirco. "We also try to come up with new things to do every month."
Chirco said that he and Clark are trying to organize different tournaments for Super Smash Brothers Brawl, Mario Kart, and Pokemon for the month of December.
The most popular games played during meetings are Super Smash Brothers Brawl on Nintendo Wii and Dungeons and Dragons. In "Brawl", four students at a time choose characters and place to face off in battle.
Dungeons and Dragons differs from "Brawl" in that it is a fantasy role-playing game. Each player is assigned a specific character to play in the game, and then embarks on imaginary adventures. The game relies principally on its referee and storyteller, the Dungeon master, who helps to create scenarios, maintain the imaginary settings, and play the role of the settings inhabitants. Together the characters solve dilemmas, engage in battles, and gather treasure and knowledge.
"I think it is best described as an imaginary 'Lord of the Rings,'" said Chirco.
According to Buffum, however, the real advantage to Games Club is the opportunity it provides for students to become involved.
"It's really great for kids that don't participate in as much of the other activities we have here," said Buffum.
The HHS Games Club provides an escape for students from the daily grind of their schoolwork, gives them a chance to make new friends or hang out with old ones, and most importantly it enables them to have fun.