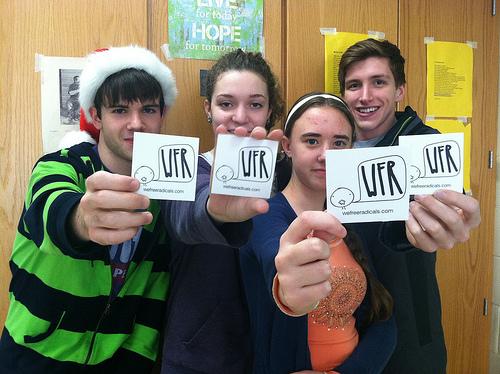 By Kayla Sullivan
"FreeRads", or wefreeradicals.com, is a student-run website for the arts that has become increasingly popular among the student body over the past few months, greatly due to its content as well as its continuous advertising methods.
The site is run by HHS senior Becca Govoni, who "wanted a place on the web where [the editors and I] could publish student work and bring professional artists to our student community," she stated. Govoni previously edited "The Satellite", the school's art magazine, but began to search for a new project after it "went in a slightly different direction," she stated.
Students Leah Raczynski, Ben Faucher, Paul Lagasse, Aleck Venegas, Kaelynn Malony, and Mehr Kaur each have a separate role in the site, whether it is music production, writing, photography, design, or publicity.
HHS English teacher Andrew Frey advises the club, and describes himself as "another voice suggesting ideas and trying to steer [the club] toward achievable goals with the site and offering support for their ideas," he explained.
The site "literally has everything, from posts on sound mechanics to slam poetry videos," said Govoni, "We also have a downloads page of free music by student musicians, which has been a smash hit for our site." Â The site will also be releasing a series of music covers by a band voted on by viewers.
Seniors Lara Murray and Abbey Perreault are two of the student musicians that have recorded individual as well as collaborative songs for the site. Â Their most popular song, "Pumped Up Kicks/Kids", has received 314 plays, and is open for downloading from the site along with all of their other songs as well.
"We don't get many opportunities to record and share our music, so the website is a good way to capture it and be a part of a community of local and school wide artists," they stated.
Not only does the site contain work from students of all grades, but it also contains work from professional artists, designers, and musicians. Â "Probably one of the best moments during this entire venture was when I landed interviews with the band Kidstreet and designer Kenzo Miami, who are such amazing influences for students everywhere," stated Govoni.
Described by Govoni as "guerrilla advertising techniques", the site's publicity methods on Facebook and Twitter have clearly caught people's attention, racking in over 4,000 total views.
In the near future, Govoni explained, there will be "merchandise, events for artists, which we are loosely calling 'Gallery Nights', and a tribute compilation of Coldplay songs." Â They will also be hosting VIP "Gallery Nights: Beta", "where a select number of readers will be able to attend a gallery of musicians, artists, poets, and storytellers at a local restaurant," explained Govoni.
Eventually, the senior editors of FreeRads hope to take the site with them to college, where it can become a "cross-school venture that will still have ties to Hopkinton," said Govoni.
"[The club] has involved so many different forms of expression, which is a reminder to all of how open the world of expression really is," stated Frey.
It is clear from the staff's efforts that they will not be stopping their expansion with the satisfaction of 4,000 views. Â "FreeRads" can be viewed at www.wefreeradicals.com, and all interested in contributing are encouraged to email [email protected].